For many homeowners, the bathroom is reserved exclusively for functions like showering and grooming, but it can also be a place to unwind, soothe sore muscles and even relax while you soak in the tub. When you want to get the most out of your daily bath ritual, consider installing a Japanese soaking tub in your bathroom — Japanese soaking tubs are both spacious and relaxing, plus they add a sense of serenity to any room.
Here's what you need to know about Japanese soaking tubs and how to choose the best one for your home.
---
Use links below for easy navigation

What is a Japanese soaking tub?
Best Japanese Soaking Tub
How to Choose a Japanese Soaking Tub
Pros and Cons of Japanese Soaking Tub
Bottom Line
---
What is a Japanese soaking tub?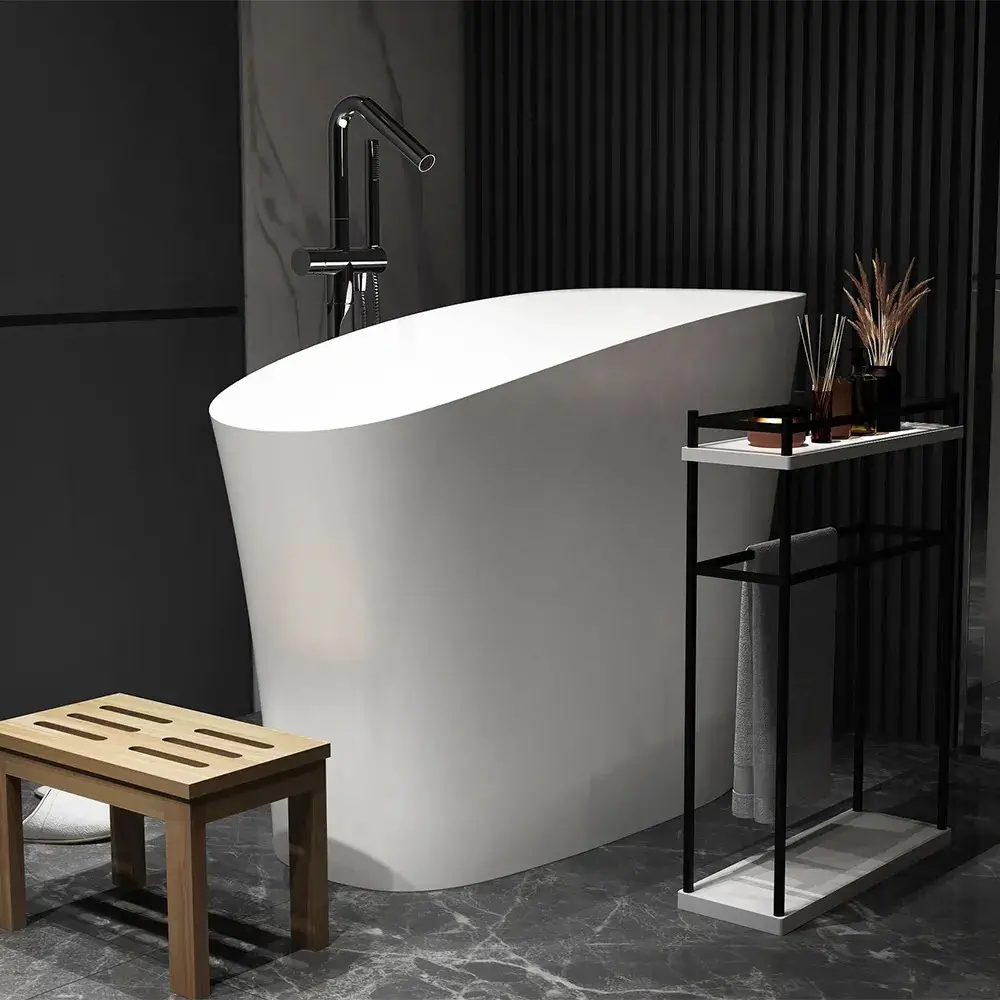 A Japanese soaking tub is a bathtub that is made for relaxation, and it can be found in many homes and hotels in Japan. You will typically find it in the bathroom or on the balcony overlooking a garden. The water is kept at a warm temperature, and you can soak in it for hours at a time. A Japanese soaking tub is also called an ofuro.
Japanese soaking tubs have been around for over 1,000 years, and they were originally used as a way to cleanse the body in preparation for meditation or prayer. They're still used for this purpose today, but they've also become popular for relaxation and recreation.
Related: Marble Bathtubs
Pros and Cons of Japanese Soaking Tub
Japan is known for its beautiful nature and culture. The country has a lot of people who love the environment and they use their bathing tubs to help save water. Let's take a look at the pros and cons of Japanese Soaking tubs, starting with the Pros.
Pros of Japanese Soaking Tub
Japanese soaking tubs are made from high-quality materials, and they're designed to relax your body and your mind. They're great for making yourself feel pampered and special.
Let's take a look at the pros of Japanese soaking tub
Deeper Soaking
Japanese soaking tubs are deeper than most tubs, so you can really sink in when you're using them. This means it's easier to get into the sweet spot of relaxation and stress relief, and they also make it easier to get your feet wet or wash up after a workout.
Related: Hammock Bathtub
Save Space
If you've ever tried to fit a regular bathtub into your tiny bathroom, you know how hard that is—and how much space that takes up! But with a Japanese soaking tub, there's no need to worry about taking up precious floor space in your house or apartment. You can use it anywhere—even in an outdoor setting!
Therapeutic
Another benefit of using an authentic Japanese soaking tub is that it can be used for therapeutic purposes as well! This includes everything from relaxation to stress relief through relaxation.
Related: Baking Soda in Bath Water
Hydrotherapy
Soaking in a Japanese soaking tub is known as hydrotherapy, and it's used by many people as part of their routine at home or work. The water is heated to between 105-115 degrees Fahrenheit (40-45 degrees Celsius) and stays there for 20-30 minutes per session—and depending on where you live, this could be done in just two hours each day!
Beautiful looking
Another benefit of Japanese soaking tubs is that they're beautiful. They're often made from porcelain or other materials that have been used for centuries, so they have a warm feeling when touched. And they look great in any room!
Related: Acrylic vs Porcelain tub
Installation
The installation process for a traditional soaking tub and Japanese soaking tubs is pretty similar—they just require different materials and tools.
Installing a traditional Japanese soaking tub is relatively easy. Your plumber will need to install a drain pipe and faucet(s), but it shouldn't take more than an hour or two.
Durable Construction
The Japanese soaking tub is a more traditional kind of tub than other types might be—it's not made of cheap materials like most modern bathtubs are. A Japanese soaking tub will last you for years to come, and it can really help you save space in your home.
Eco friendly
The Japanese soaking tubs are eco-friendly as well because they don't require any chemicals to make sure that you don't get any infections from using this product on a daily basis. It also has no harmful fumes that cause headaches or nausea when using them for long periods of time.
Uplifts Value of Home
The value of your home goes up when you buy a Japanese soaking tub. The tub is not only beautiful and functional but also provides value for your home.
Related: 10 Romantic bath ideas
Cons of Japanese Soaking Tub
Japanese soaking tubs are great for soaking, but not for bathing. They have a lot of disadvantages that make them less than ideal for taking a bath or shower. Let's take a look at their cons
Costly
The cost of a Japanese soaking tub varies depending on the brand, size, and materials used in its construction. You can expect to pay between $2000 and $5000 for a basic model.
The cost of the Japanese soaking tub may be higher than the normal soaking tubs, but you will get more value in return due to the quality of materials used in each.
Cannot convert into a shower
In addition to its cost and weight, there is one more consideration that makes this product inconvenient to use as a tub: it cannot be converted into a shower. It is also difficult to use if you have arthritis or other joint problems.
Related: One piece bathtub shower combo
Hard to adjust the body
Japanese soaking tubs are difficult to adjust. You will have to take your clothes off before using the Japanese soaking tub, and even then it can be difficult to adjust yourself correctly in order to comfortably sit down in the tub. The backrest is also very stiff and does not move with you as you move around within the tub.
Best Japanese Soaking Tub
The Japanese soaking tub is a great way to unwind after a long day. It's also a great way to relax and soothe sore muscles. Let's take a look at the Best Japanese Soaking Tubs in 2022
Homray 47″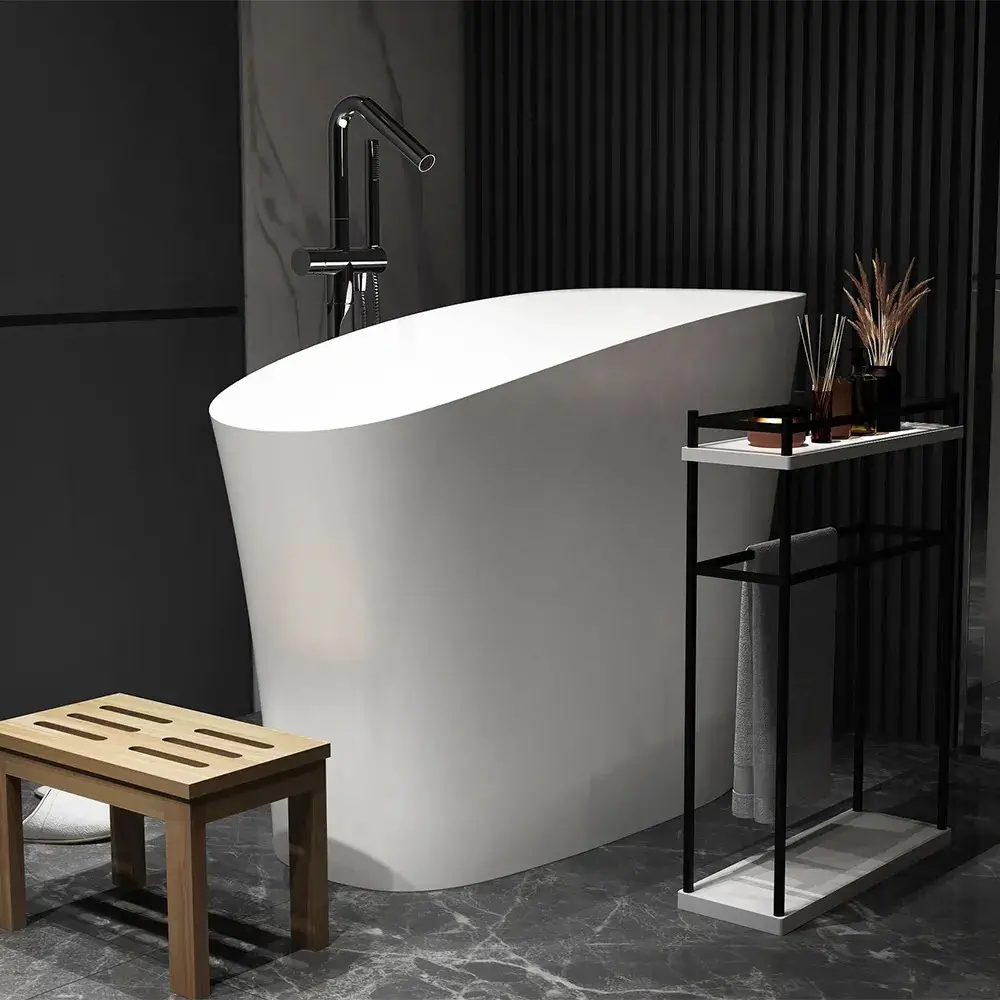 Item Weight: 180 Pounds, Capacity: 80 Gallons, Shape: Oval
Liven up your bathroom with the Homray Japanese Soaking Tub! This stone resin soaking tub is built to last, and it's completely free-standing so you can install it on your own. It's also built to withstand corrosion and tarnishing, so it will look great for years to come.
This soaking tub has a spacious design that accommodates one bather—so you can soak in comfort without having to worry about being cramped up by others. The drain and step stool are included, so you can enjoy this bathtub right away!
You'll love the full-body experience of soaking in this tub, which gives you plenty of space for relaxation. You can also use it for floor fillers if you prefer.
Related: Best Alcove bathtubs
Pros
It's less likely to get damaged by accidents or vandalism
Full-body experience of soaking in this tub
The drain and step stool are included
Constructed of stone resin for years of durability and strength.
Corrosion and tarnishing resistant.
Spacious design
Cons
Only 1 year limited warranty
Empava 48″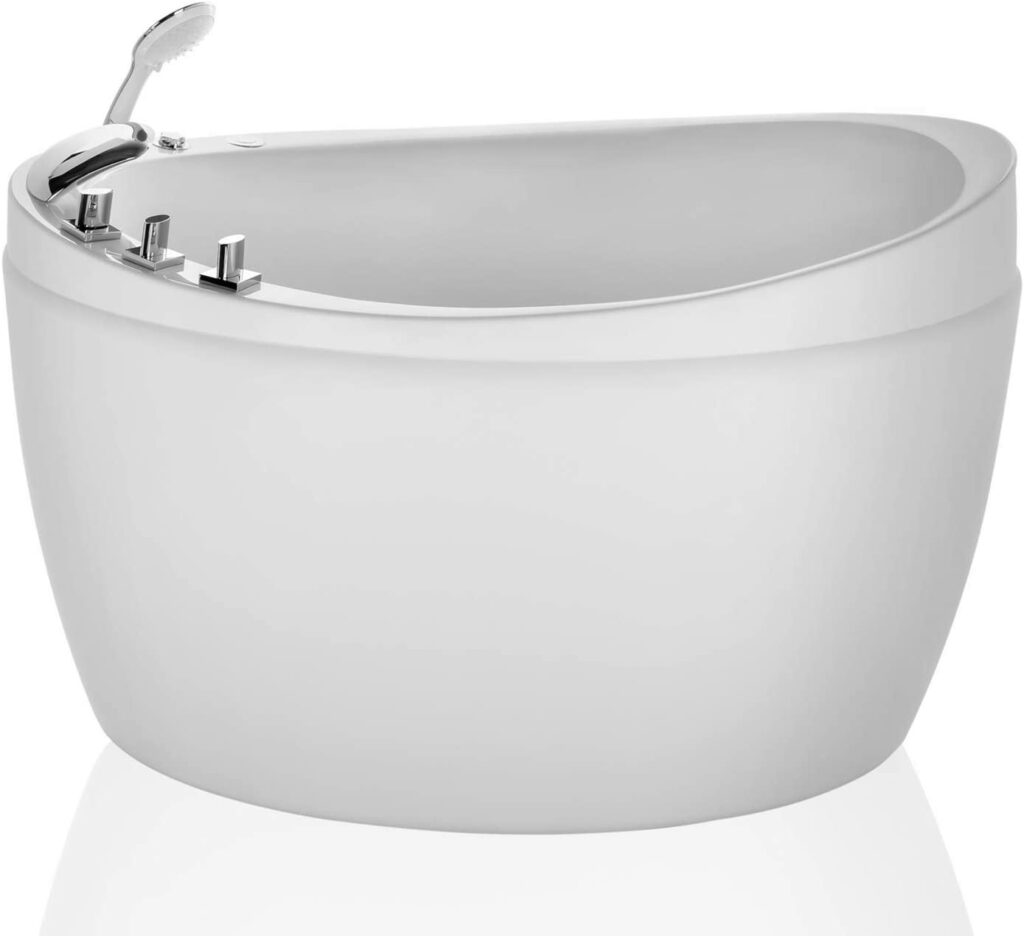 Item Weight: 100 Pounds, Capacity: 40 Gallons, Shape: Oval
The Empava Japanese Soaking Tub is a freestanding tub made of 100% glossy white acrylic that's designed to be a stand-alone oval Japanese tub. It features low-pressure massage jets, an integrated seat, and a ½ HP air pump that relaxes you as you soak in water.
With this tub, you can relax and indulge in pure leisure time while getting your face clean or pampering yourself with some therapeutic massaging jets.
This Air tub includes a drain, faucet, knobs, showerhead, and jets for maximum comfort. It's also UL Certified Motor and includes accessories pre-installed so all you have to do is fill it up!
And for your peace of mind, the 3-year limited warranty ensures you'll get years of use out of this bathtub!
Pros
This Japanese Soaking Tub comes with accessories pre-installed and pre-drilled
48 Pieces of air pinhole jets
Perfect for low-pressure massage
Easy to clean and maintain
Contains an integrated seat
UL Certified Motor
Cons
40 Gallons capacity
Homray 59″ Japanese Oak Wood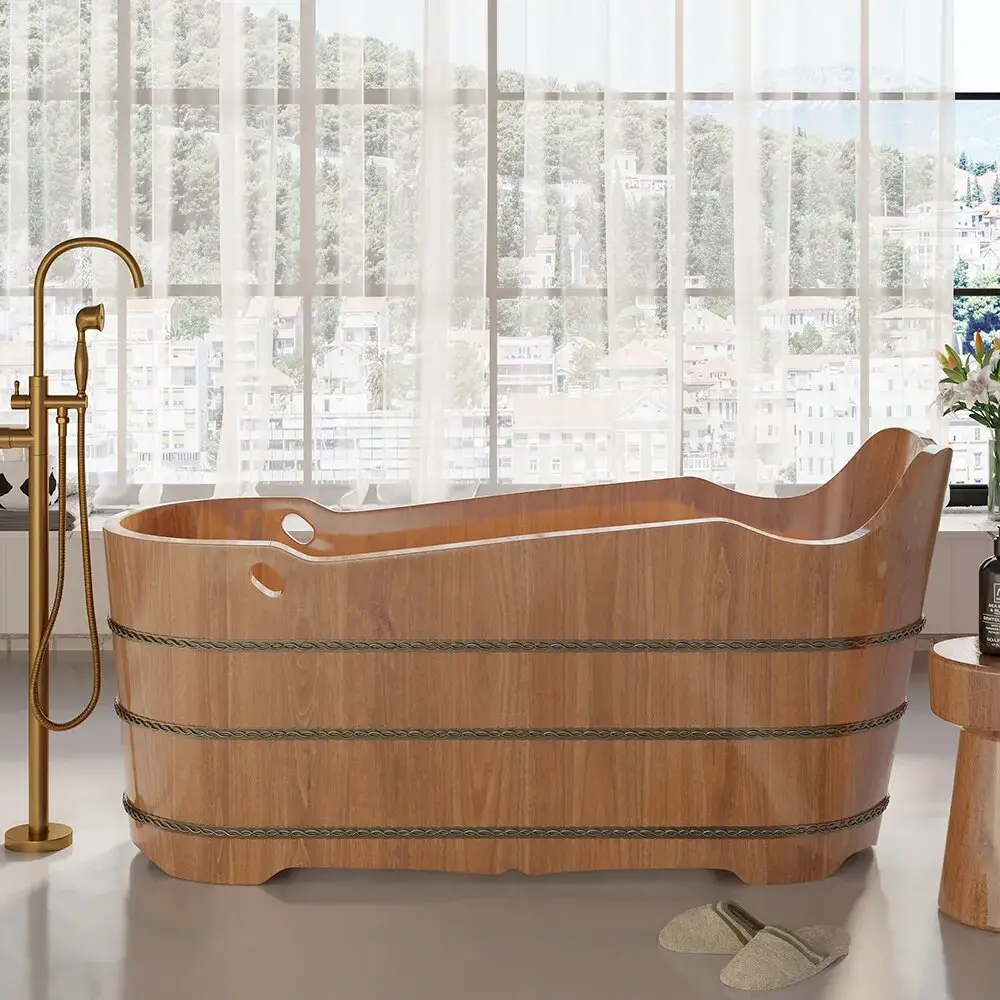 Item Weight: 180 Pounds, Capacity: 100 Gallons, Shape: Oval
Introducing the most luxurious Japanese Oak wood soaking tub
If you're a fan of soaking in a warm bath, this Homray Japanese Soaking tub is for you.
The Homray Soaking tub is designed for free-standing installation, so you won't have to worry about the tub being too high or too heavy to move around. The deep, full-body experience means you can sit down and relax comfortably.
The space will accommodate one bather—so it's perfect for getting away from the world and enjoying some peace while soaking.
And with the included drain and step stool, getting in and out of the tub will be just as easy as it is to get into any other tub!
Related: Most comfortable freestanding tubs
Pros
It's perfect for soaking up all the stress of the day
Spacious and deep
Best for smaller spaces and larger ones
Suitable with floor tub fillers
Made from high-quality materials
Cons
Overflow and faucet not included
Empava 59″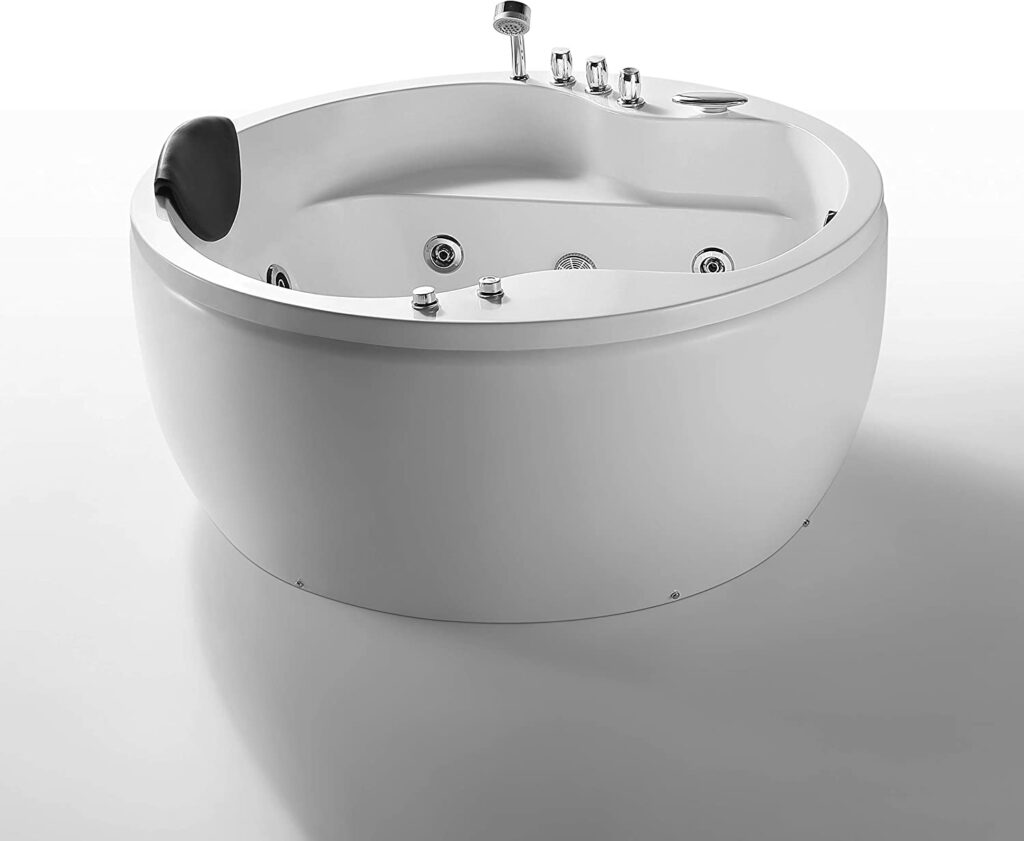 Item Weight: 180 Pounds, Capacity: 100 Gallons, Shape: Round
Empava Japanese Soaking tub brings you the best of both worlds: a traditional soaking tub and the features you've been missing.
With its sleek, timeless design and the amazing soaking experiences it provides, Empava is sure to become your favorite soaking bathtub.
The Empava Japanese Soaking tub comes with everything you need to enjoy a relaxing soak in style: a whirlpool bathtub, hydro massage jets, a round shape, and a right-side drain. It also comes with 6 water jets and 2 jets in the lumbar region and 4 jets in the body region. You'll get 1 HP water pump that will take care of all your washing needs so you don't have to worry about having limited space for other appliances. And because this is an acrylic soaking tub, it can be used for many years without breaking down!
Empava is a timeless classic that will bring luxurious bathing experiences into your home at an affordable price point!
Pros
Provides a deep soak that relaxes your muscles
It comes with an auto-shutoff feature after 60 minutes of use to prevent accidents
The whirlpool bathtub also includes a hydro massage feature
3 years limited warranty from the manufacturer
Accessories are pre-drilled and pre-installed
Easy to maintain and clean
Cons
No cons for this Japanese jacuzzi tub
How to Choose a Japanese Soaking Tub
Choosing the best Japanese soaking tub is a matter of personal preference. You should consider the size, shape, and capacity of your soaking tub when choosing one.
Size:
Choose a soaking tub that's big enough for you to lie down in comfortably. The bigger the size, the more comfortable it will be to sit or lie in and relax, but if you're going to use the tub for everyday bathing, you may want to pick something that's slightly smaller.
Related: How to measure a bathtub
Shape:
Pick a soaking tub that has a shape that fits your body type and size. For example, if you are tall then choose an oval-shaped one so that it will not be uncomfortable for you when lying down. If you are short then choose a rectangular one so that it will not be difficult for you to get in and out of the bathtub easily.
The capacity of the tub:
The capacity of your soaking tub will determine how many people can use it at once. A small capacity means that only one person can soak at a time, whereas a large capacity allows several people to soak together without having to wait for each person to finish their bath.
Related: Best 2 person jacuzzi bathtub
Comfortability:
This factor is very important because you want your soaking tub to be comfortable and relaxing—you don't want to be uncomfortable while you're relaxing! So make sure that your soaking tub has enough room around its edges so that it feels spacious but not too open that anyone could fall into it accidentally while they're lying down inside!
Related: Most comfortable bathtub shapes
Layout:
Do you prefer a traditional rectangular shape or do you like something more modern? If your home has a traditional layout, then go with a traditional shape and size. If your home has a more modern layout with open spaces, then go for something modern if possible.
Faucets:
Some faucets can fit both types of soaking tubs, while others are only compatible with certain models. If you're looking for something that's compatible with your existing plumbing system, make sure to research this before purchasing!
Why you should consider a Japanese soaking tub?
Japanese soaking tubs are prized for their ability to draw out toxins from the body and soften skin. This is achieved because of the special shape of the tub, which allows water to flow into it from the bottom. The water then flows up through channels in the sides and back of the tub until it reaches a point where it turns around and trickles down onto your body.
This process creates a gentle massage that helps relax tense muscles and relieve pain.
Bottom Line
A Japanese soaking tub has quite the reputation, and if you're lucky enough to have one in your home, you've probably noticed that this reputation isn't unwarranted. These hot tubs are not only known for their unique shape, but also for their incredible ability to soothe aches and pains and reduce stress levels. If you have an old ache or pain nagging at you, give your body the treat it deserves and invest in this relaxing tub today!