If you're in the market for the best Jacuzzi tub also known as whirlpool tub, you know how overwhelming it can be to sort through all of the options out there.
But if you don't give yourself enough time to find what you want, you could end up settling for something subpar – or spending more than necessary to get it.
This is why, we have put together a review of 5 of the Best Jacuzzi Tubs in 2023 for your convenience.
---
Use links below for easy navigation
Best Jacuzzi Tubs
Empava 59 inch
Kohler 60 Inch
Woodbridge 71 Inch
BHBL 61 Inch
Decoraport 71 Inch

What to look for in Jacuzzi tubs
Best Way to Clean a Jacuzzi Tub
Final Thoughts
---
Best Jacuzzi Tubs
Creating a spa-like experience in your own home can be as simple as buying the right Jacuzzi tub and accessories to go with it!
Whether you're looking to relax after a long day at work or simply want to treat yourself, there are plenty of benefits to upgrading your bathtub with one of these awesome tubs. And, if you're still on the fence about whether or not to buy one, consider that they typically increase the value of your home while making it more appealing and inviting!
Related: How does a jacuzzi tub work
Check out our list of top Best Jacuzzi tubs in 2023 below!
Empava 59 inch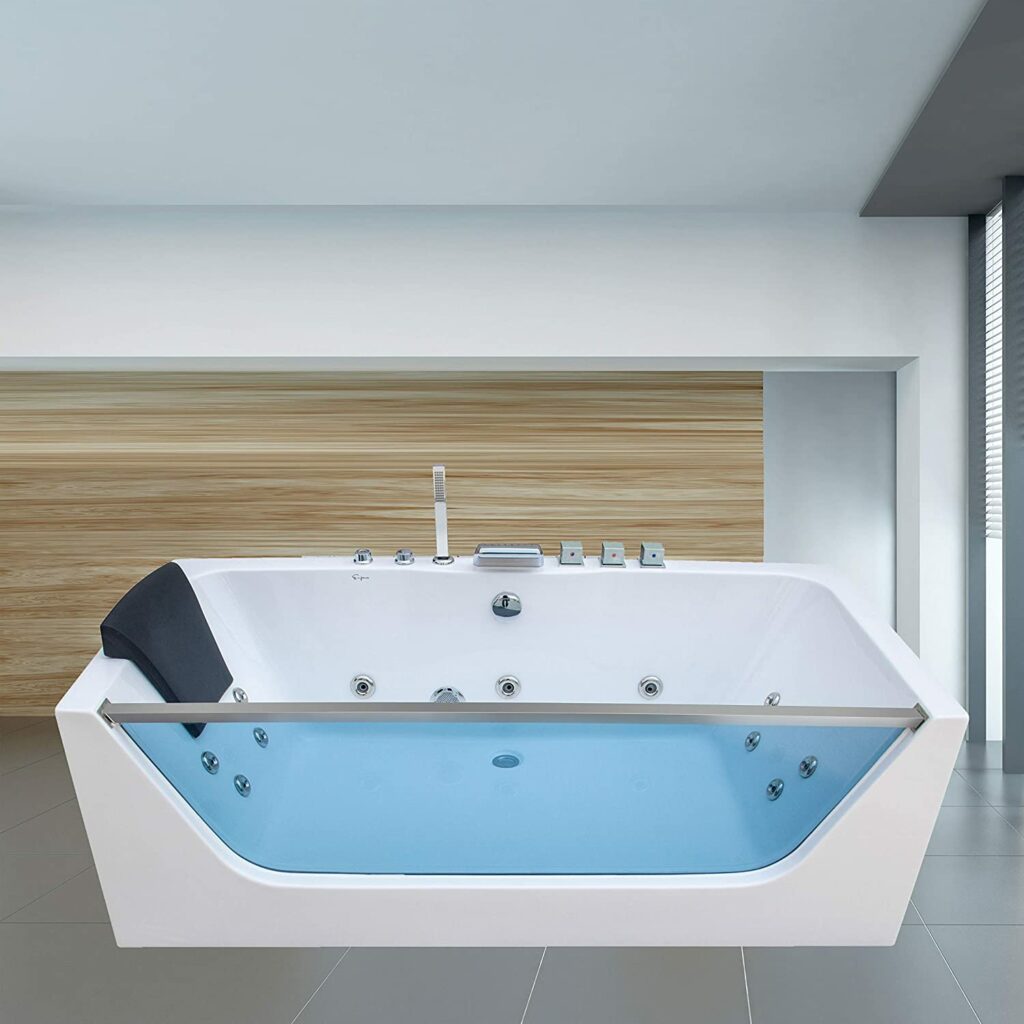 If you're looking for a spa-like experience that will leave you feeling relaxed and rejuvenated after a long day, The Empava Jacuzzi tub is the perfect addition to your home.
This acrylic whirlpool tub features 11 water jets in the back, 4 small jets in the lumbar region, 3 jets in the body region, 4 jets in the foot region, 14″ soaking depth, and a rectangular design.
The front panel is made of 5/16″ thick (8mm) tempered glass and it has an auto-shut-off protection system that keeps water at the desired temperature.
Empava Jacuzzi tub also has a safety spout for easy draining and cleaning purposes. It has a rectangular design. And the 42-gallon capacity makes this tub perfect for families or couples who want to relax together at night.
Related: Best Japanese soaking tub
Pros
11 water jets, 4 small jets in the lumbar region, 3 jets in the body region, 4 jets in the foot region
14″ soaking depth
Spa-like comfort
Auto shut-off protection
The front panel is made of 5/16″ thick (8mm) tempered glass
Cons
42 Gallons capacity
Kohler 60 Inch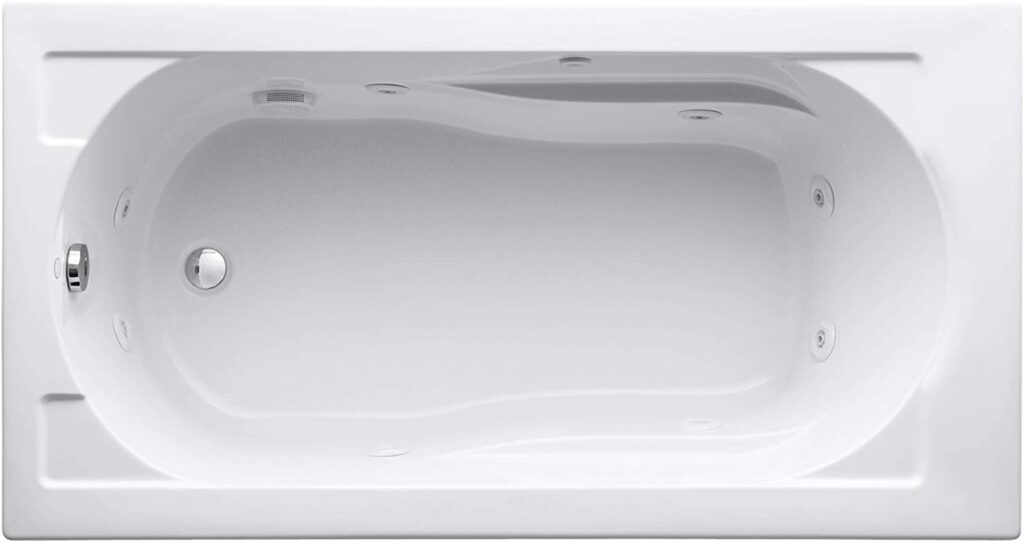 The Kohler Best Jacuzzi Tub is a great choice for anyone who wants to unwind after a long day.
This Jacuzzi tub has hydro-massage jets, and a drop-in installation, and weighs 133 pounds. It also has a textured bottom surface with an oval shape. And it can hold up to 60 gallons of water.
It is easy to install this Jacuzzi tub in your bathroom because it has a drop-in installation. You can decide which side of the tub you want to use for filling up the water and which side for getting out of the water so that it will be easier for you when you're finished using it.
If you're looking for an affordable, high-quality Jacuzzi tub that will give you the spa experience at home, look no further than the Kohler 60 Inch. This Kohler Jacuzzi tub will make your bathroom look more stylish than ever before!
Related: Best One Piece Bathtub Shower Combo
Pros
Hydro-massage jets
Drop-in installation
Textured bottom surface
Oval shape for relaxation
Cons
133 pounds weight
Woodbridge 71 Inch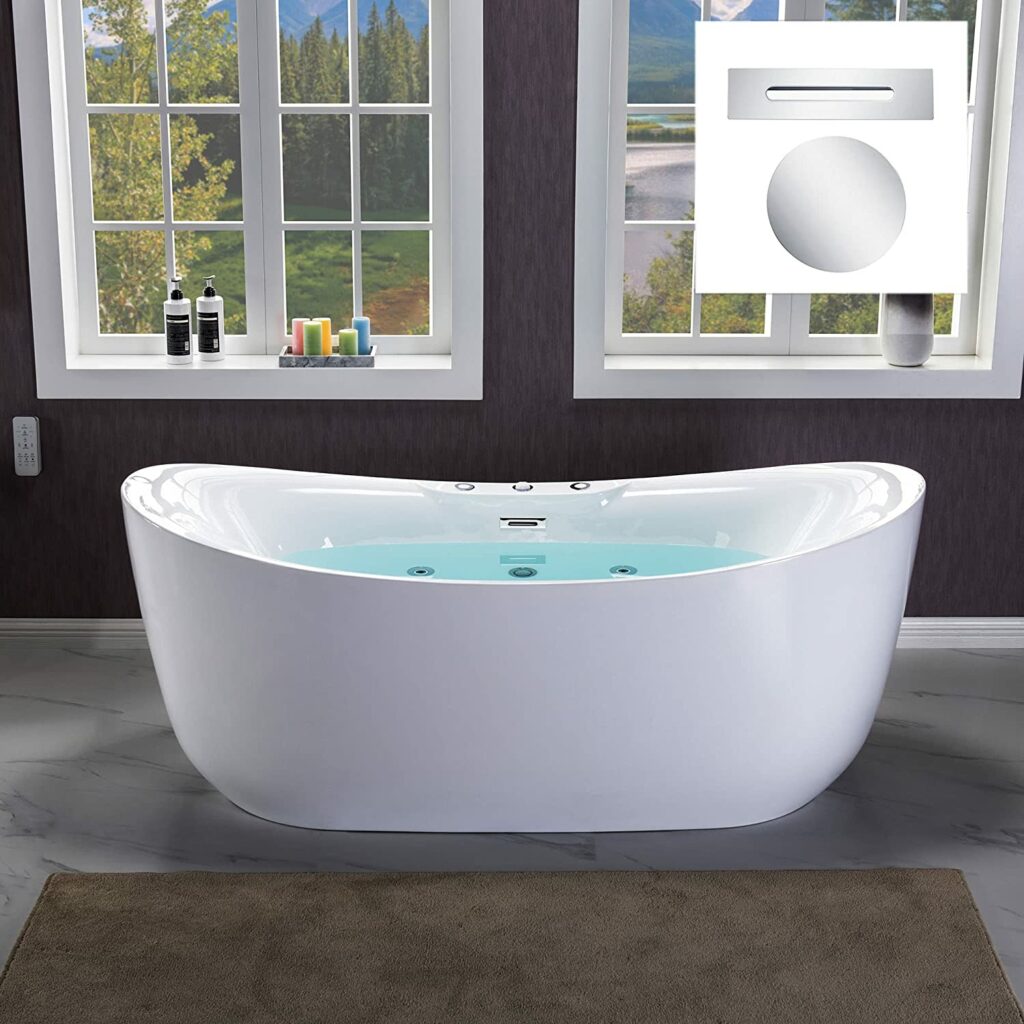 This Woodbridge Jacuzzi Tub is the perfect way to unwind after a long day.
The Woodbridge 71-inch Jacuzzi Tub has a whirlpool and air bubble jets in one tub, 6 adjustable body massage jets, and 10 whirlpool bubble bath jets. A steady level of hydro-massage is generated by a powerful pump that circulates water at a rate of up to 4 gallons per minute. Gentle Air Massage is also featured in this tub with its patented Air Massage System.
The high gloss white Lucite acrylic finish is waterproof and creates a smooth, non-porous surface that won't harbor bacteria or mold.
The Woodbridge Jacuzzi Tub comes equipped with an underwater chromotherapy light so you can enjoy the benefits of color therapy while soaking in the tub. You can use different colors to help improve your mood or relieve stress after a long day at work or school!
This tub is a perfect choice for anyone who loves to relax in their own personal hot tub. The steady level of hydro-massage will help you relax while the Gentle Air Massage will help you get a full-body massage.
Pros
Whirlpool and Air Bubble Jets in one tub
6 adjustable body massage jets and 10 whirlpool bubble bath jets
Steady level of hydro-massage
Gentle Air Massage
High gloss white Lucite acrylic
Underwater chromotherapy light
Cons
Costly option
BHBL 61 Inch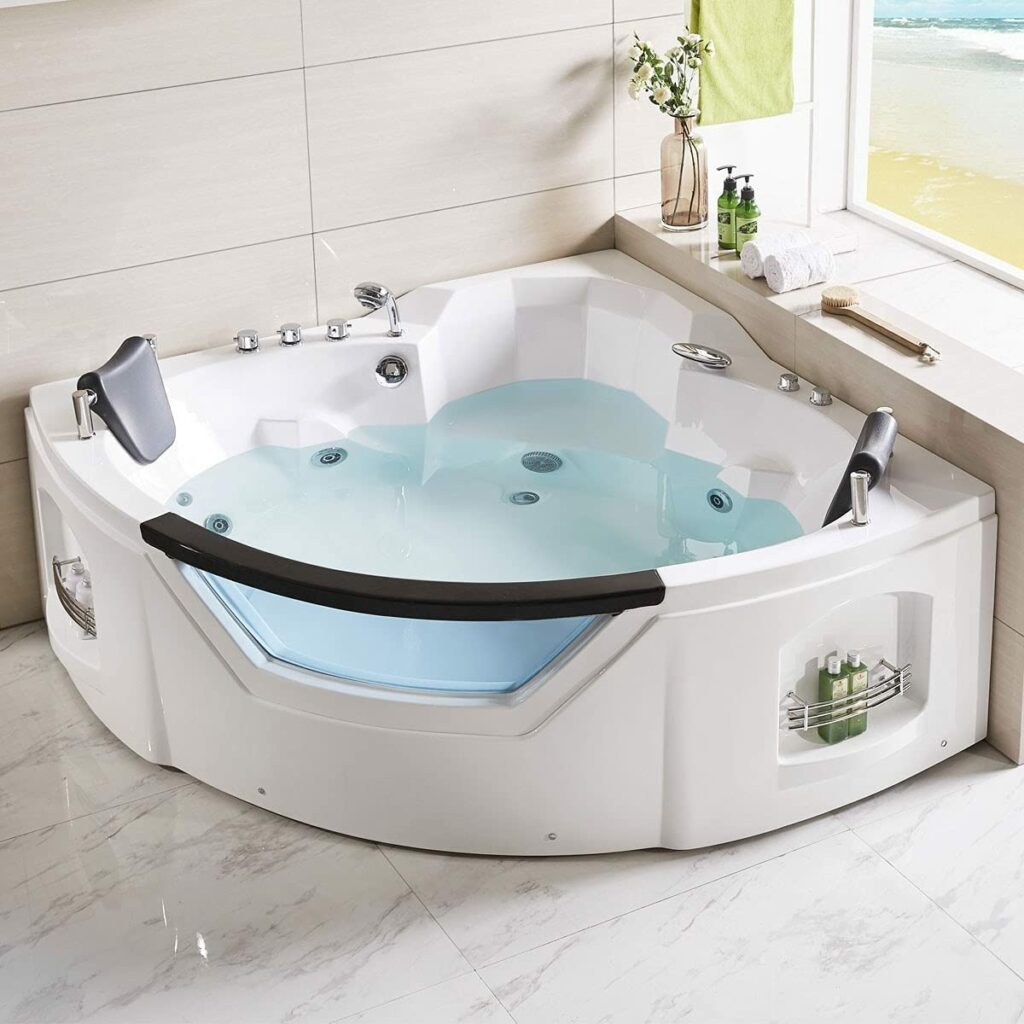 The BHBL 61-inch Cornered Jacuzzi Tub is the perfect option for anyone looking to add a little luxury to their life. It features ergonomic curves designed to make it easy for you and your partner.
The tub holds up to 120 gallons of water, so there's plenty of room for everyone, including pets! The 1HP pump provides an awesome hydro massage feature that will leave you feeling relaxed and rejuvenated after even the most stressful of days.
The 3 big jets around the body will massage your back and shoulders as you soak in the warm water, while the small jets in the back will help ease muscle tension and soreness. The hydro massage feature allows you to control the flow of water from each jet, so you can customize your experience.
If you've been looking for a jacuzzi tub that's large enough to fit 2 people, that's built to last, and that doesn't cost a fortune. Look no further—we've got exactly what you need.
It comes complete with UL certification so that you know it meets all safety standards in your area
Related: Best 2 person jacuzzi bathtub
Pros
Cornered Jacuzzi Tub
Capacity 120 Gallons
Ergonomics shape
1HP water pump, 3 big jets around the body, 1 small jet back
UL certified
2 pillows included
Cons
Slippery bottom
Decoraport 71 Inch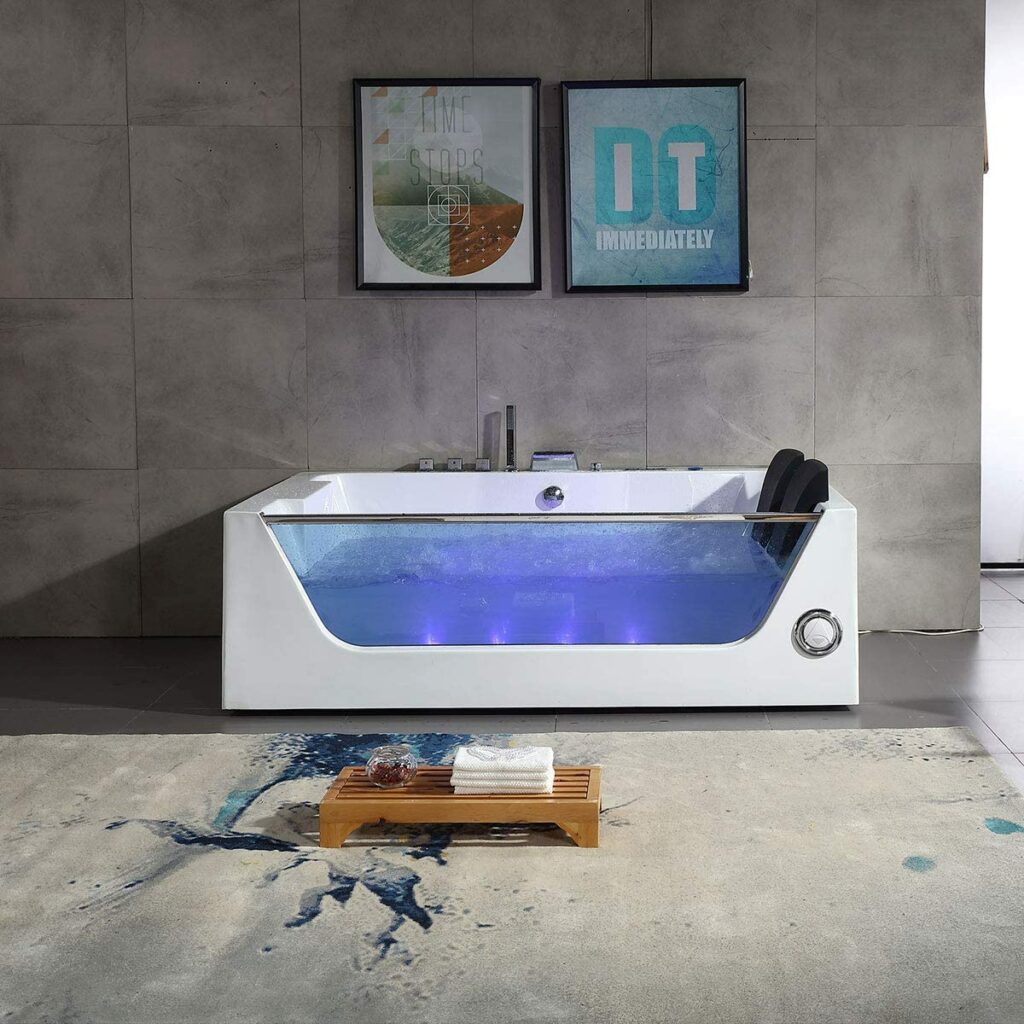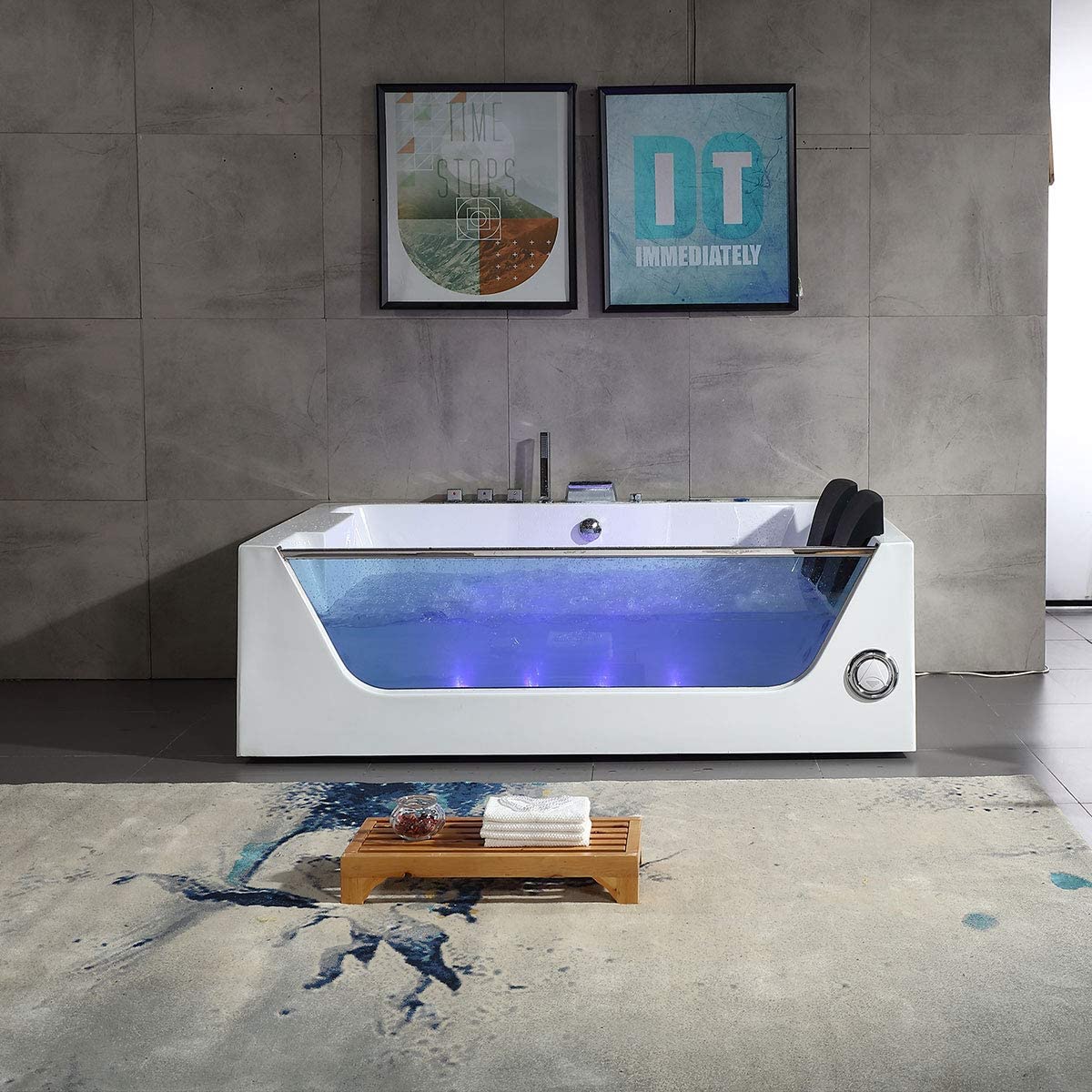 If you're looking for a jacuzzi tub that's both luxurious and practical, look no further than this Decoraport model.
This inflatable jacuzzi tub is made from an acrylic body and tempered glass front panel, so it has a sleek, durable feel without being heavy or bulky. The 1.2HP motor and 400W air pump are powerful enough to inflate the tub to 132 gallons of capacity in just 20 minutes!
Once you're fully inflated, the 16 air jets will make sure you're enjoying your relaxing soak in the most comfortable way possible.
The three middle jets can be used as a stand-alone massage feature or combined with any of the other jets to create an even more soothing experience. And if you want to listen to music while you soak? No problem—the USB port lets you play tunes through your own speaker system!
Related: Most comfortable freestanding tubs
Pros
Air jets with Light
USB for Speaker
2 Person Infusion Jacuzzi tub with Control Panel
1.2HP motor and 400W air pump
16 air jets, 3 middle jets
8mm thick tempered glass front panel
UL certified motor
5 Years Manufacturer Warranty
Cons
Most costly option on our list
What to look for in Jacuzzi tubs
When it comes to Jacuzzi tubs, there are a lot of things you should consider before making your purchase. Here are just a few of the most important ones.
Material of tub
The material used in the construction of your tub is extremely important. You want to make sure that it lasts for years and years. This means going with something like fiberglass or acrylic over less durable materials.
You do not want to spend money on a cheap tub that will break down quickly or not hold up under regular use.
Related: Acrylic vs Cast Iron tub
Size
Next, consider the size of your Jacuzzi tub. It should be large enough for you and at least one other person (or more if you have a large family). If not, it will feel cramped when using it together.
If you have a large space in your home where you plan on putting the tub, then you may want to consider getting one with more room such as a 71-inch size. If you do not have much space available for your new Jacuzzi tub, then try looking for one that has smaller dimensions so it will fit comfortably in the available space without taking up too much room away from other things.
Related: Freestanding tubs pros and cons
Water Jets
It's important to make sure your tub has enough water jets. If you're looking for a relaxing experience, then consider getting a tub with at least 6 or 8 water jets.
Water jets are what help keep your body relaxed and comfortable while allowing all of your muscles to relax. They also help prevent muscle strain and tension by providing massaging action throughout the entire body. If you have too few water jets, then it won't be as effective at relaxing as it could be.
There are several options available including bubble massagers that create bubbles around the body, massage jets that provide acupressure-like sensations, whirlpool jets that provide a massaging effect on your back and shoulders, hydrotherapy jets (also known as "air massage jets"), which provide air pressure massage effects from all sides, and more.
Related: Can you put bubbles in a jacuzzi tub?
Design
Jacuzzi tubs come in many different designs including oval shape, round shape, and rectangular shape models. Some have clear acrylic sides while others have opaque plastic or glass sides.
Some designs also include built-in waterproof pillows that are useful for a relaxing experience.
The design of your jacuzzi tub is very important because it will allow you to enjoy using it every day without feeling like it's an inconvenience or taking up too much space in your home.
Related: How to use jacuzzi tub
Best Way to Clean a Jacuzzi Tub
Cleaning your Jacuzzi tub is an important part of keeping your spa looking and feeling great. Here are some simple steps to get you started:
1. Apply baking soda and scrub the tub with a brush or sponge.
2. Add hot water and vinegar, which will help loosen the dirt and grime that have built up over time.
3. Soak for 5-10 minutes or more, then drain and wipe dry.
4. Fill again with fresh water, run jets for a few minutes to rinse out any remaining residue from the cleaning solution, then drain again before wiping dry one more time!
Related: Baking Soda in Bath Water
What is the difference between a hot tub and a Jacuzzi?
A hot tub is just a tub full of hot water. On the other hand, Jacuzzi is a hot tub with water jets that will help you relax your muscles and relieve stress from your body.
Are Jacuzzi bath tubs good?
Jacuzzi tubs are great for relieving stress and relaxing. They can be used by anyone and are not just limited to people with disabilities or those who live in assisted living facilities. They are a great way to rejuvenate your body, mind, and spirit.
Final Thoughts
A bubble bath in your own home may be the ultimate way to relax and unwind, and a hot tub in your garden can be just as enjoyable, especially if you're an outdoorsy person who likes exploring the great outdoors. However, you might want to consider investing in an indoor Jacuzzi tub instead of or as well as an outdoor one. With all of the benefits that come with installing one of these in your home, you'll wonder why you hadn't thought of it sooner!