Whether you're remodeling your bathroom or just looking for an upgrade, it can be difficult to decide which rain shower head and handheld combo is best for you.
In this blog post, we'll cover the Best Rain Shower Head and Handheld Combos for the perfect shower experience, so you can make an informed decision about which one is right for you.
---
Use links below for easy navigation
---
Types and Variations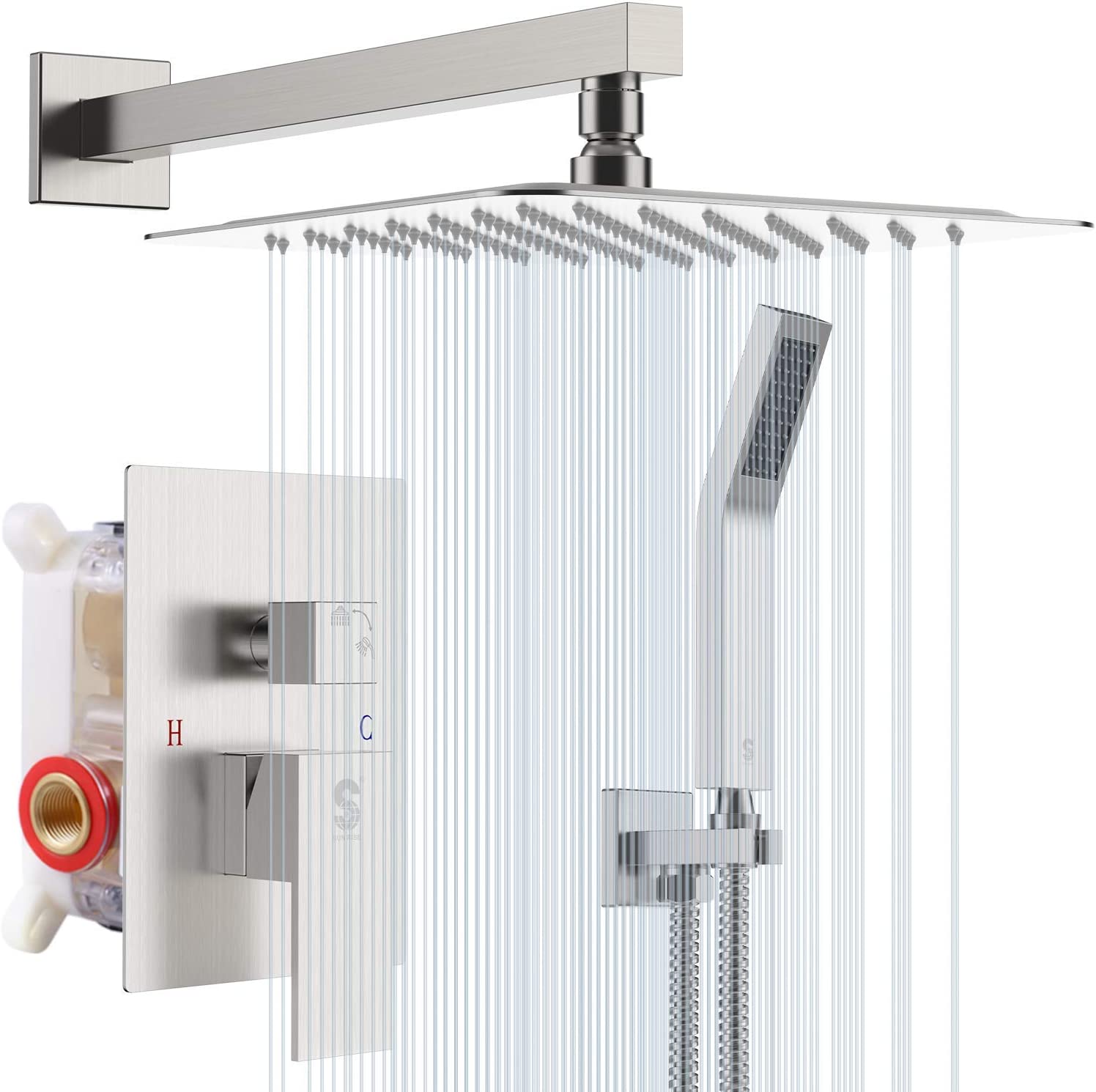 When it comes to transforming your daily shower routine into a luxurious and invigorating experience, Rain Shower Head and Handheld Combos are an exceptional choice. These sophisticated fixtures offer a fusion of design and functionality, elevating your bathroom to new heights.
Let's dive into the diverse world of rain shower head and handheld combo options, exploring the unique types and variations that exist.
Ceiling-Mounted vs. Wall-Mounted Rain Shower Head and Handheld Combos
The first consideration when selecting a rain shower head and handheld combo is the mounting type.
Ceiling-mounted units suspend from above, simulating the sensation of rainfall, while wall-mounted options extend from the wall, delivering a more traditional shower experience. Each has its merits, and the choice ultimately depends on your preference and bathroom design
Square, Round, and Rectangular Shower Heads
The most common options are square, round, and rectangular. Each imparts a distinctive aesthetic. Square heads brings modernity and symmetry, while round heads provide a classic and timeless look. Rectangular shower heads offer a balanced fusion of the two.
Consider your bathroom's existing design when choosing the right shape to ensure a harmonious blend
Choosing the Right Shape for Your Bathroom
When selecting a shower head shape, assess the proportions and layout of your bathroom. Square shower heads may complement a bathroom with clean lines, while round heads harmonize with smaller spaces. For a balanced appeal, rectangular shower heads can suit various bathroom sizes. The aim is to create a visual synergy between the shower head and your bathroom's design elements.
Finish Options
The finish of your rain shower head and handheld combo plays a crucial role in enhancing the overall appeal. Popular finish options include chrome, stainless steel, brushed nickel, and more. Chrome radiates a shiny, polished look, while stainless steel offers durability and a modern aesthetic. Brushed nickel exudes warmth and resists fingerprints. Each finish brings a unique character to your bathroom space.
Adjustable Height and Angle
To ensure the utmost comfort and accessibility, look for a rain shower head and handheld combo with adjustable features. The ability to modify the height and angle of the shower head allows you to tailor the shower experience to your preferences. Whether you're tall or short, these adjustments can provide a personalized and soothing experience.
Best Rain Shower Head and Handheld Combo
Whether you're looking for a luxurious spa-like experience or a simple, efficient shower setup, we've got you covered with our list of the best rain shower head and handheld combos. So if you're ready to upgrade your shower and create your perfect experience, read on!
SR SUN RISE Combo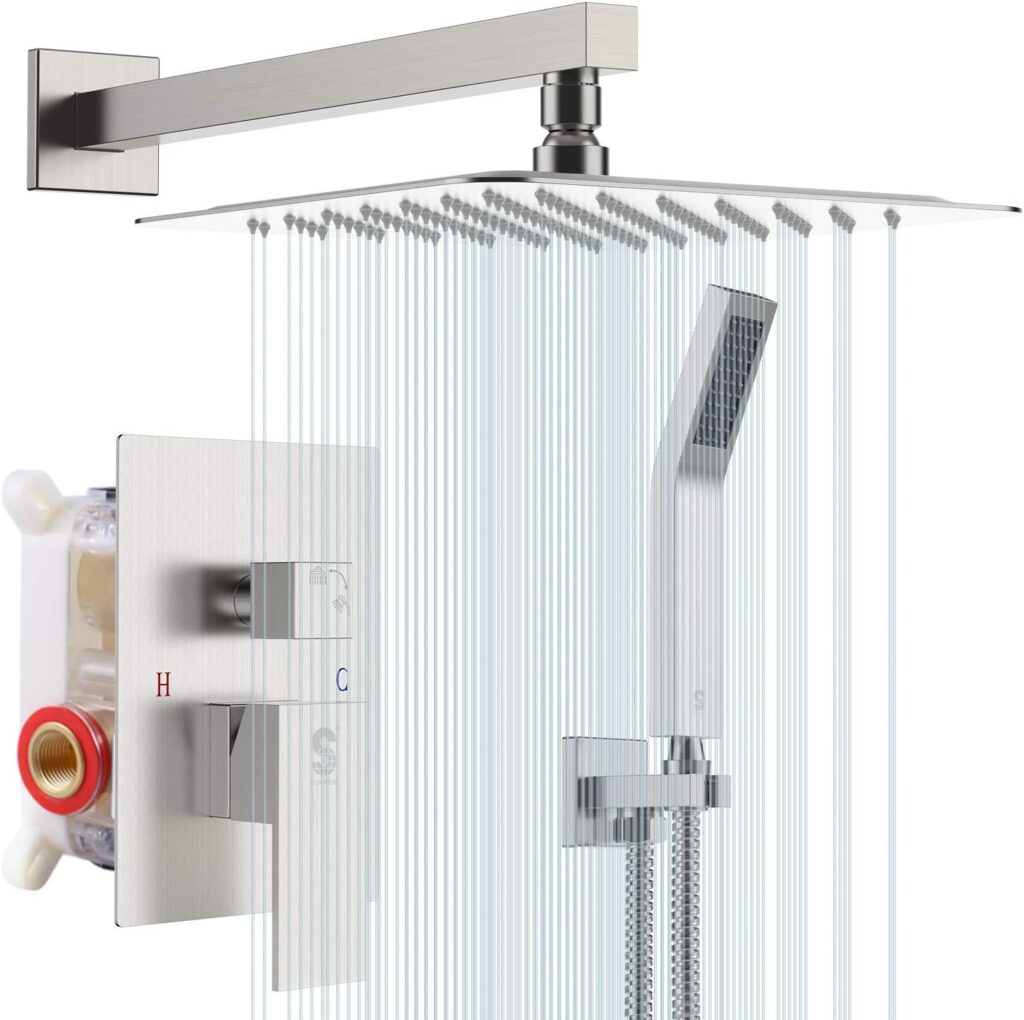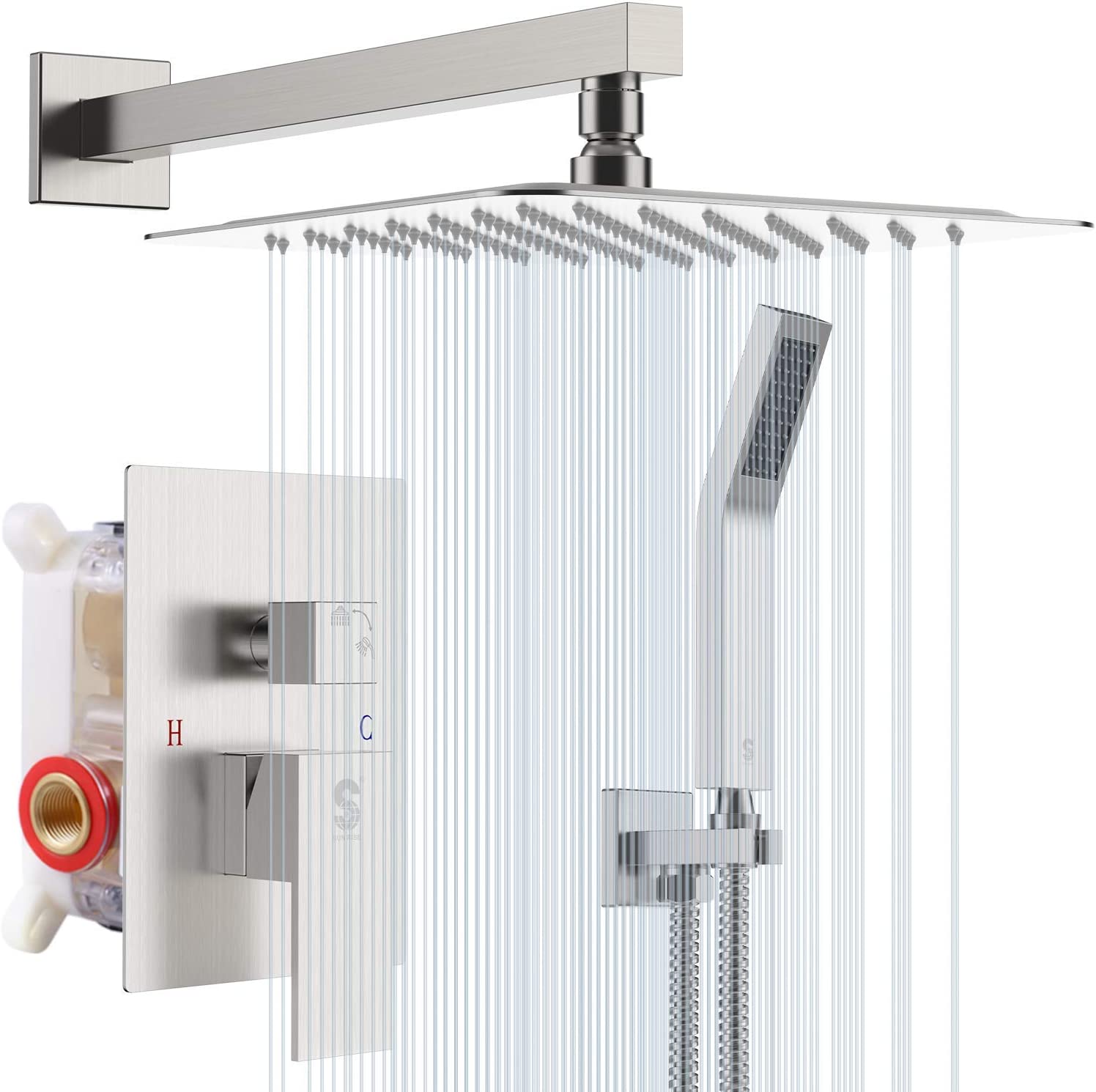 When it comes to your shower, you want the best. And we've got it for you.
The Sr Sun Rise is the best rain shower head and handheld combo, made with high-quality materials and all-metal construction. It's lightweight and flexible, so it won't take up any space in your bathroom or get in the way of your other decor. The silicone nozzles are built to last, and they're easy to clean—even without chemicals. And they've got a 10-year warranty on everything in case something should go wrong.
But the best part? The water pressure is incredible! You'll feel like you're standing under a waterfall when you use this showerhead. The 71-inch extra-long hose gives you plenty of space to move around while you bathe, but it's still flexible enough that if one of your kids accidentally knocks into it while they're playing in their bath, it won't break off or crack open anywhere inside your walls as some other brands do!
And since we know how important water conservation is these days, this product works under low water pressure too! Because of its built-in two check valves, all those extra gallons of water don't have to go.
Lastly, It's designed for use with a standard 1/2″ thread size U.S. approved by the California Energy Commission.
What's inside with the SR Sun Rise Combo?
10″ Rain Shower Head, Handheld Shower head, 16 Inch shower arm, Shower Valve and Trims, Shower Bracket, 71 Inch Shower Hose
Pros
All-metal, sturdy construction shower head and handheld shower combo
Built-in two check valves that eliminate water hammer noise
The 71″ extra-long hose is flexible and anti-kink
This product works great even under low-water pressure systems
Cons
Costly
PinWin Combo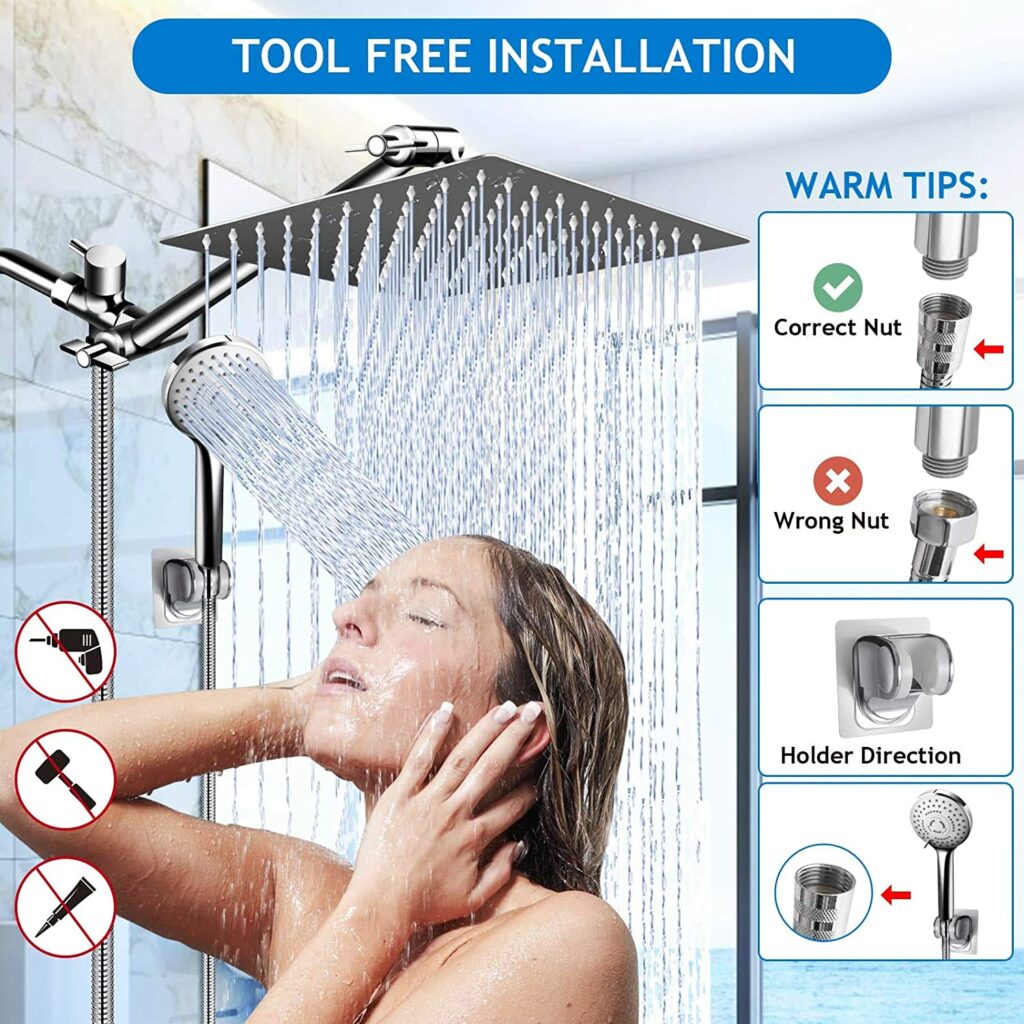 The PinWin Best Rain Shower Head and Handheld Combo is the perfect shower head to help you get clean, while also staying within your budget. The 10-inch square rain shower head provides a lot of coverage, and the high pressure handheld shower head gives you even more power when you need it.
The 100 self-cleaning silicone nozzles disperse water evenly over your body, so it's easier to rinse off shampoo and conditioner without having to scrub too hard. The 360-degree rotation angle makes it easy for you to adjust the spray direction on the fly so that you can take care of any problem areas. And thanks to its leak-free connection, there's no more worrying about water flowing out of place when you're done with your shower.
This shower head has five different modes: normal mode, massage mode, sensitive mode, gentle rain mode, and eco mode.
This rain shower head and handheld combo is a great product at an unbeatable price!
Pros
The 100 self-clean silicone nozzles will make sure you never have to worry about lime or hard water buildup
It's made from solid brass so it should last a long time without rusting out
The leak-free connection makes installation a breeze
5 Modes setting means there are tons of options for how you want your water to flow
Cons
Edges on square rain shower head are sharp so careful installation is required
Moen 26009SRN Combo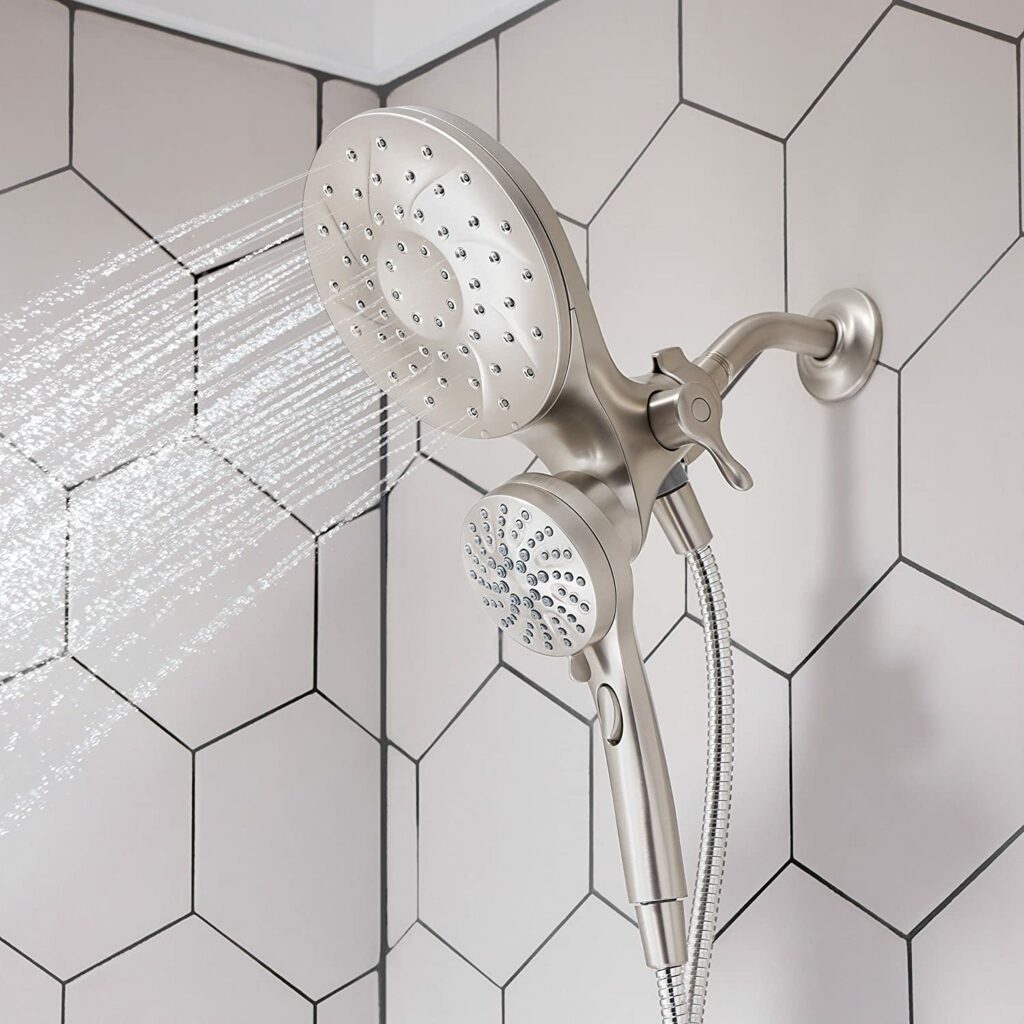 The Moen Best Rain Shower Head and Handheld Combo is a great option for anyone looking to upgrade their shower experience. With its magnetic docking system and chrome finish, this shower head is sure to look great in any bathroom. The handheld shower head effortlessly detaches from the main unit, and its kink-free metal hose extends reach so you can wash your back without having to bend over or change positions.
The multiple shower settings give you control over how much water pressure you get, and the handheld shower head has a magnetic base that allows it to easily detach from the wall when not in use.
The Moen Rain Shower Head and Handheld Combo is the perfect addition to any bathroom.
Pros
The multiple settings on this shower head provide endless possibilities for your next shower, whether you want a light mist or a heavy downpour of water.
The kink-free metal hose extends reach, so you can clean even those hard-to-reach spots.
A magnetic docking system makes it easy to detach
Cons
Plastic is used in the construction
Delta Faucet 58680-PR25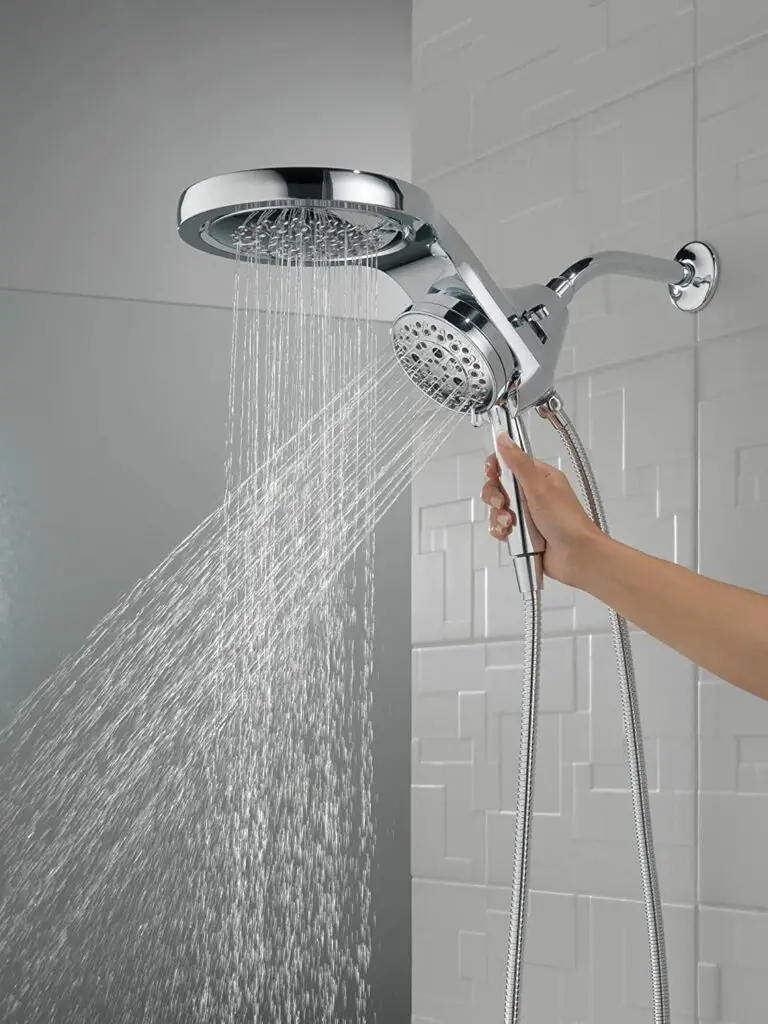 It's time to get drenched in a whole new way.
The Delta Best Rain Shower Head and Handheld Combo is the best of both worlds: it has the power of a handheld shower and the control of a fixed shower head. It's all thanks to H2Okinetic technology, which creates a unique pattern that gives you more coverage than any other shower head on the market.
You can even pause your shower when you need something to do with your hands, like drying off or applying lotion—and then turn it back on with just the push of a button! The powerful integrated magnet holds your shower head precisely in place so there's no more wrestling with it while you're trying to get clean. Plus, it installs in minutes and comes with an 82-inch hose for maximum flexibility.
There's nothing better than taking a long, hot shower… except for taking a long hot shower with this incredible new product from Delta Faucet!
Pros
The Magnatite Docking holds the shower head precisely
The Pause feature reduces water to a trickle to give you time to shampoo or condition your hair
The shower head combo installs in minutes, and it has five settings for your convenience
You can easily wipe away calcium and lime build-up
Cons
Costly but worth it
Moen Verso 220C2EPSRN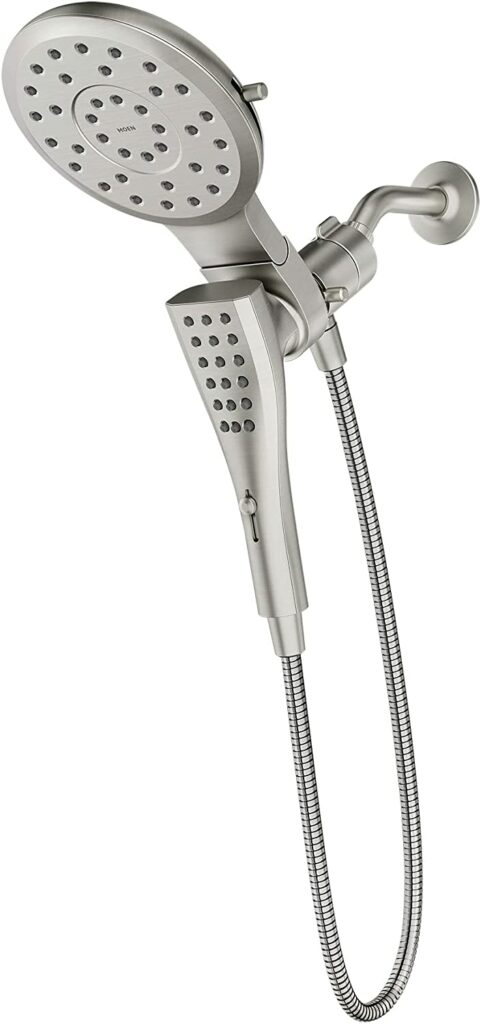 The Moen Verso Best Rain Shower Head and Handheld Combo will make you never want to leave the bathroom.
This shower system comes with a rain showerhead and handheld shower that has a Magnetix dock, so you'll be able to switch between modes seamlessly. The Magnetix dock in Moen Verso makes it easy to install and keeps the hose firmly in place. You can have a relaxing rain shower experience or use the handheld sprayer for washing your dog or cleaning up after your kids.
The spot resist finish resists fingerprints, water spots, and rust, making it easy to keep clean. The flexible hose is kink-free and features a seven-inch spray face that gives you plenty of coverage.
This product is made with recycled ocean plastic, a sustainable design solution.
What's included with this combo?
Rain shower and handheld shower head with 3-way diverter, Magnetix dock with Infiniti Dial 3 washers, and 60-inch metal hose.
Pros
Its 60-inch metal hose adds beauty to your bathroom decor while providing added convenience
It resists fingerprints and water spots
Seamlessly switch between spray modes
Made from recycled ocean plastic for a sustainable design solution
Cons
No cons for this shower head combo
Buying Guide for Rain Shower Head and Handheld Combos
When searching for a Rain Shower Head and Handheld Combo, there are a few things to consider.
Material
The first thing you want to check is the material. The material is what will allow you to get the most out of your shower head and handheld combo. You can choose between plastic and metal, but it's important to make sure that the material is sturdy enough to withstand long-term use.
Some materials are more durable than others, which means that they will last longer and be able to withstand more pressure from the water flow.
Shower Settings
Next, think about your shower settings. Do you want something that has multiple settings? If so, what kinds of settings do you prefer? Do you like having a water-saving option? This can help you narrow down your search for the perfect product!
If you are looking for a combo that offers several shower settings, then you need to look for a product that comes with multiple shower settings. The more settings it offers, the better it will be for your needs.
Installation
If the installation is something that concerns you when shopping for your new shower head and handheld combo, rest assured that it doesn't have to be difficult at all!
Most products will come with instructions on how to install them easily yourself or with the help of a professional if necessary. Just make sure that the product is easy to install so that you can save time and money on installation costs.
Hose
Finally, before buying a Rain Shower & Handheld Combo make sure that you take into account how long the hose is going to be on your device too!
It's important because if there isn't a long hose, it will be difficult for you to use it.
Bottom Line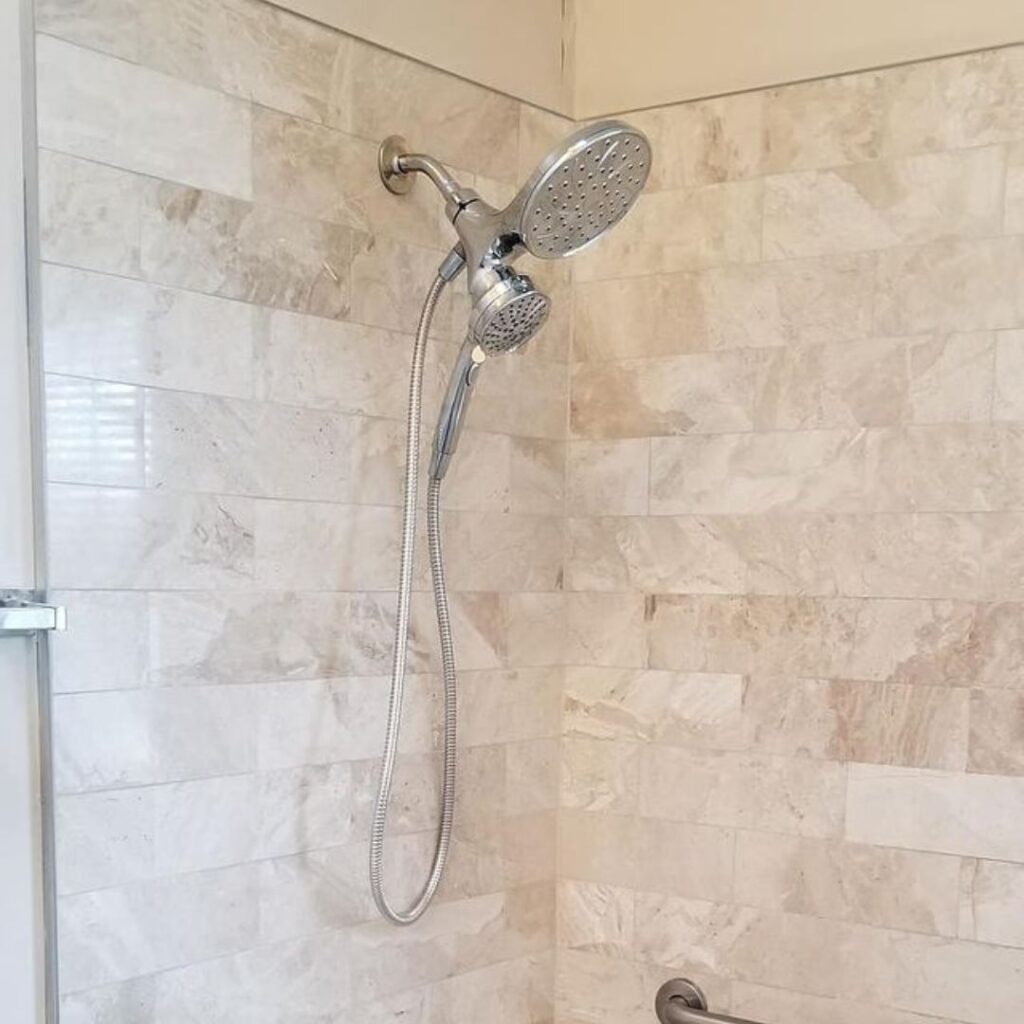 A rain shower head and handheld combo is a great way to get a shower. It offers an unparalleled fusion of aesthetics and practicality, elevating your daily ritual into a spa-like indulgence. This blend of luxury, functionality, and style is the epitome of modern bathroom design, redefining the way you shower.
The dual shower combines the best of both worlds into one convenient package, you get the power of a rain shower head combined with the convenience of a handheld sprayer when you need it most!