For most college students, living in dorms means sharing space with several roommates who don't always have the same schedule or showering habits as you do.
If you're going to be spending plenty of time showering during your dorm life, you might as well use the best shower caddy for dorms to make the experience as easy and enjoyable as possible.
---
Use links below for easy navigation
Types of Dorm Shower Caddies
Best Shower Caddy for Dorms
Reger Shower caddy
Bukere Shower caddy
Eudele Shower caddy
Spinfox Shower caddy
Terra Home Shower caddy
What to look for in Shower Caddy for Dorms
Final Thoughts
---
Types of Dorm Shower Caddies
In the world of dorm essentials, a good shower caddy is your trusty sidekick. It keeps your toiletries organized and your daily routine hassle-free. But with various types of shower caddies available, how do you choose the right one for your dorm room?
Let's break it down and explore the options.
Tote-Style Caddies
Tote-style shower caddies are the timeless, go-to choice for dorm dwellers. They come in various sizes, have multiple compartments, and a sturdy handle. You can carry your toiletries from your dorm room to the bathroom effortlessly.
Hanging Shower Caddies
Hanging caddies are an excellent choice for those tight on space. They conveniently hook onto the showerhead or curtain rod, keeping your essentials within arm's reach.
Over the Door Shower Caddies
Over-the-door caddies are all about making the most of vertical space. They hang on the back of your bathroom door, offering storage without taking up precious shower space.
Best Shower Caddy for Dorms
Buying shower caddies for your dorm can make life easier, especially if you don't want to deal with hauling an extra-large shower bottle back and forth from the bathroom each time you take a shower.
With plenty of built-in storage compartments and hooks, a good dorm shower caddy can help you keep all your bathroom essentials off the bathroom floor and within easy reach when you need them.
Here are five of the Best Shower Caddies for Dorms so that you can relax, knowing that your body wash, shampoo, soap, and other essentials are all within reach but out of harm's way.
Reger Shower Caddy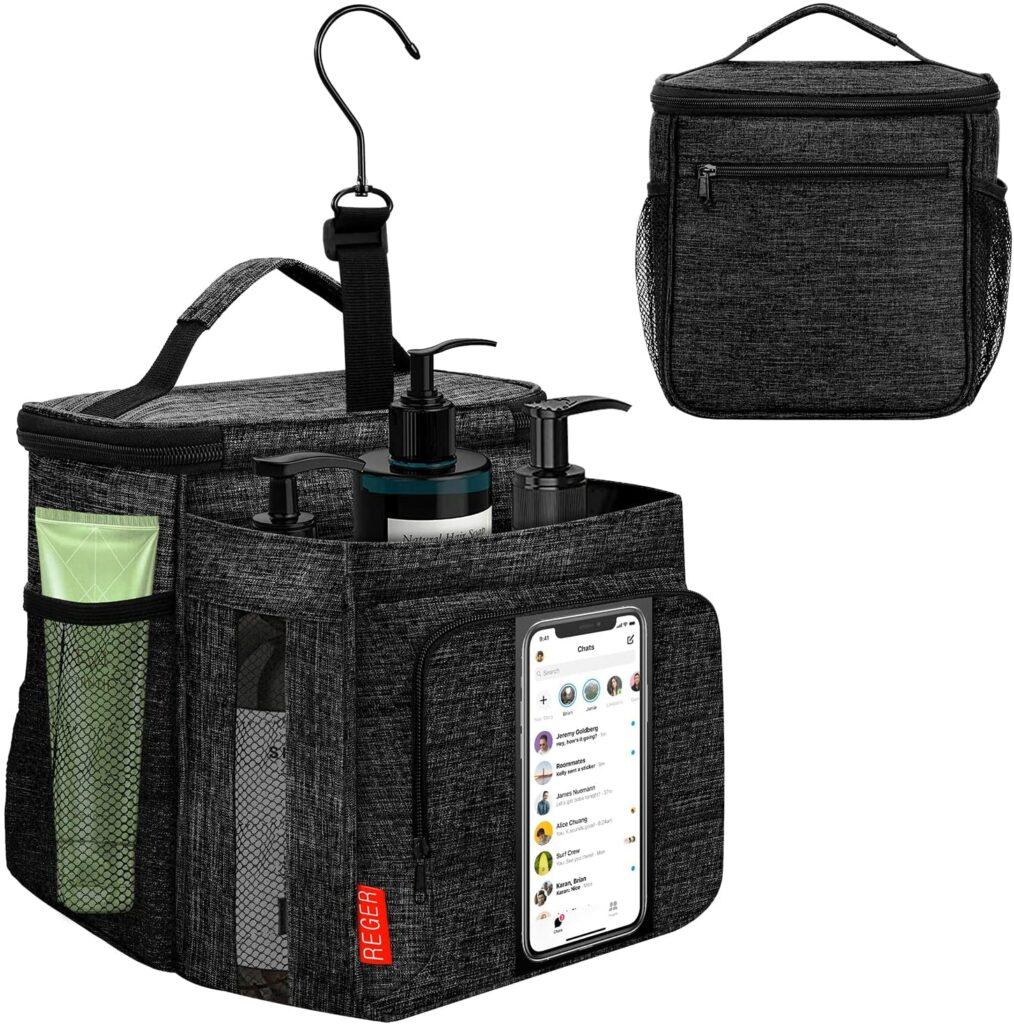 We know how hard it is to keep your dorm room organized, so we've tested out all of the top shower caddies and narrowed it down to the best one: The Reger shower caddy.
If you're a college student, you know that having a shower caddy is essential. You have to manage not only your shampoo and soap, but also your toothbrush, deodorant, and all of the other little necessities that make life bearable in close quarters.
That's where Reger Best Shower Caddy comes in. This heavy-duty shower caddy has everything you could ever want in a dorm shower caddy: it's portable, it has a breathable construction and outer and inner zippered bag so you can keep everything organized, and there's even an outer pocket where you can place your phone so it doesn't get wet in the shower!         
Pros
Breathable construction
Perfect shower caddy for dorms
Outer and inner mesh opened bags
Heavy duty
You can hang it anywhere
Cons
The hanging hook is on the inside
Bukere Shower caddy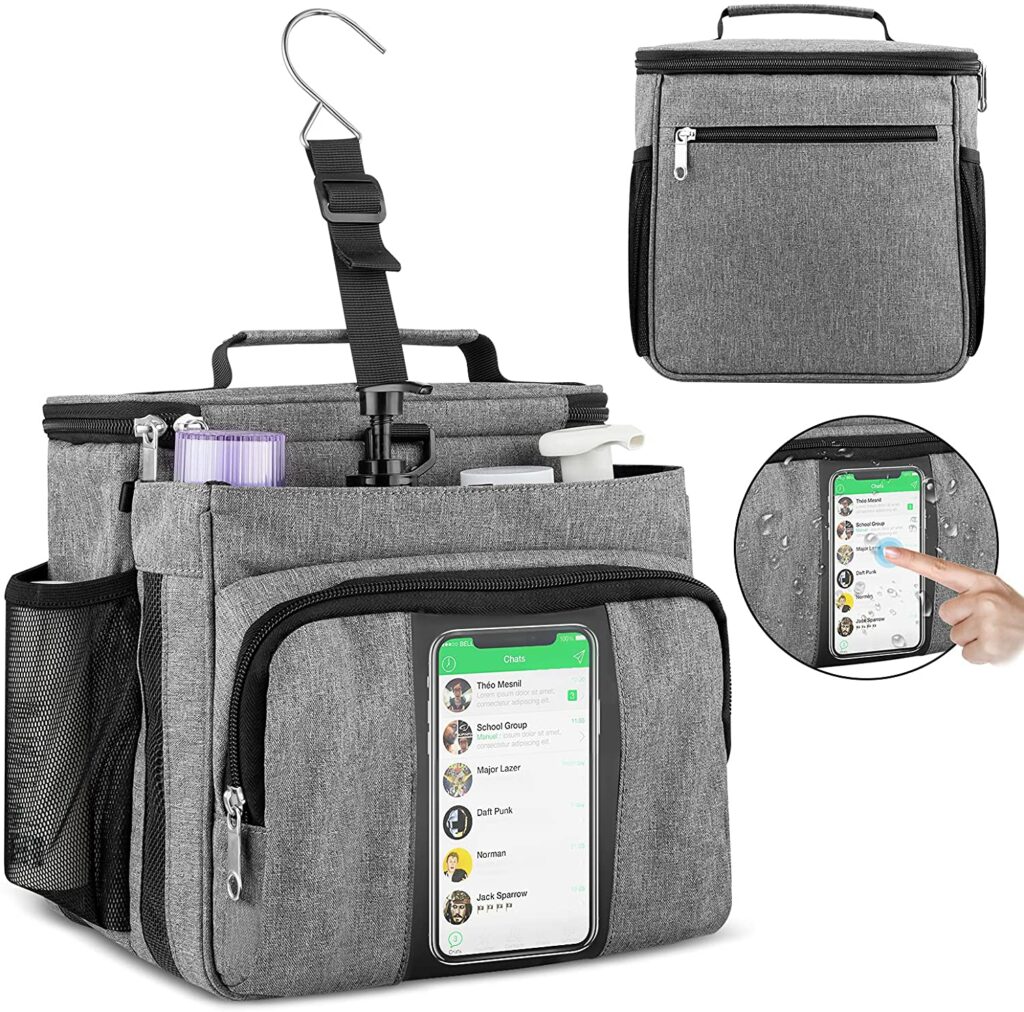 This shower caddy is built with oxford material and has mesh opened outer bags. It has an adjustable strap that can be used to hang on the wall or door of your dorm room.
With this shower caddy, you do not have to worry about where to put your shampoo, conditioner, soap, or anything else that you need in the shower. The mesh bag will allow you to keep all these items in one place so they are easily accessible when needed.
If you are looking for a shower caddy that will help you organize your things while being at school, gym or beach then this item is perfect for you! It comes in three different colors: Grey, Purple and blue so there is something for everyone!
This makes it a great option for camping trips or gym visits too!
Pros
You can put your cell phone in the front pocket
Breathable Mesh Shower caddy
High-quality and durable
Comes in three different colors
Versatile shower caddy
Cons
Storage areas are a little tight
Terra Home Shower caddy
The Terra Home shower caddy is made from polyester, so it's portable and foldable. It also features a mesh construction that dries quickly so your stuff doesn't get wet.
Terra Home also features an adjustable shoulder strap so you can take it with you wherever you go! It's easy to use, too: just hang it up with the included hook or stick it to the wall with the suction cups. You can also hang it over your shower head with the metal hook that comes with the product.
The Terra Home Shower Caddy includes 2 pockets (1 on each side) to hold all of your toiletries, towels, and other personal items while you're getting ready in the morning or after a workout at night. The pockets are big enough to fit shampoo bottles, soap bars, and more—you can even use one pocket for larger items like shampoo bottles or conditioners that won't fit into smaller pockets!
You'll love how sleek this shower caddy looks once you've hung it up in your bathroom!
The Terra Home Portable Shower Caddy is perfect for dorms, road trips, and gym showers. And did we mention it comes in five stylish colors?
Pros
Portable, easy to manage
Big pockets to hold toiletries
Perfect for road trips, gym showers, and dorms
Comes in 5 different stylish colors
Cons
Tight spacing
Eudele Shower caddy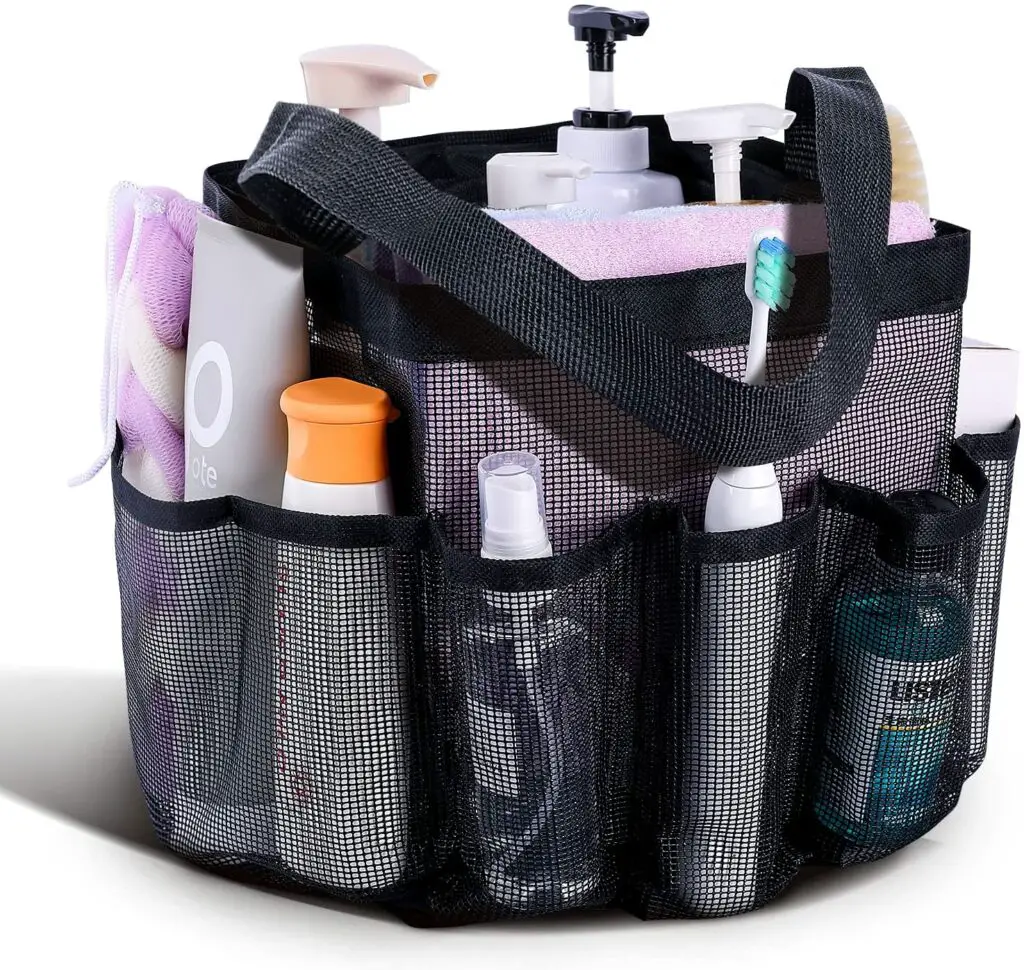 The Eudele shower caddy has a large capacity, which means that it can hold all of your essentials without being too bulky or heavy to carry around with you. It even has pockets on each side so that you can keep smaller items like shampoo bottles or lotion bottles separate from larger items such as towels or washcloths.
The Eudele shower caddy is the perfect solution for college students. It's made of breathable mesh fabric construction, so you can keep your shower supplies contained and organized in one place. It also has oxford fabric, which means it's durable and portable—the perfect combination for a dorm!
If you're looking for a shower caddy that can hold all of your essentials and still look good, then you need to check out the Eudele Best Shower Caddy for Dorms
Pros
Breathable mesh construction
Pockets on each side
Oxford fabric that is durable
Perfect for dorms, Washes up very easy
Cons
Comes with a single strap
Spinfox Shower caddy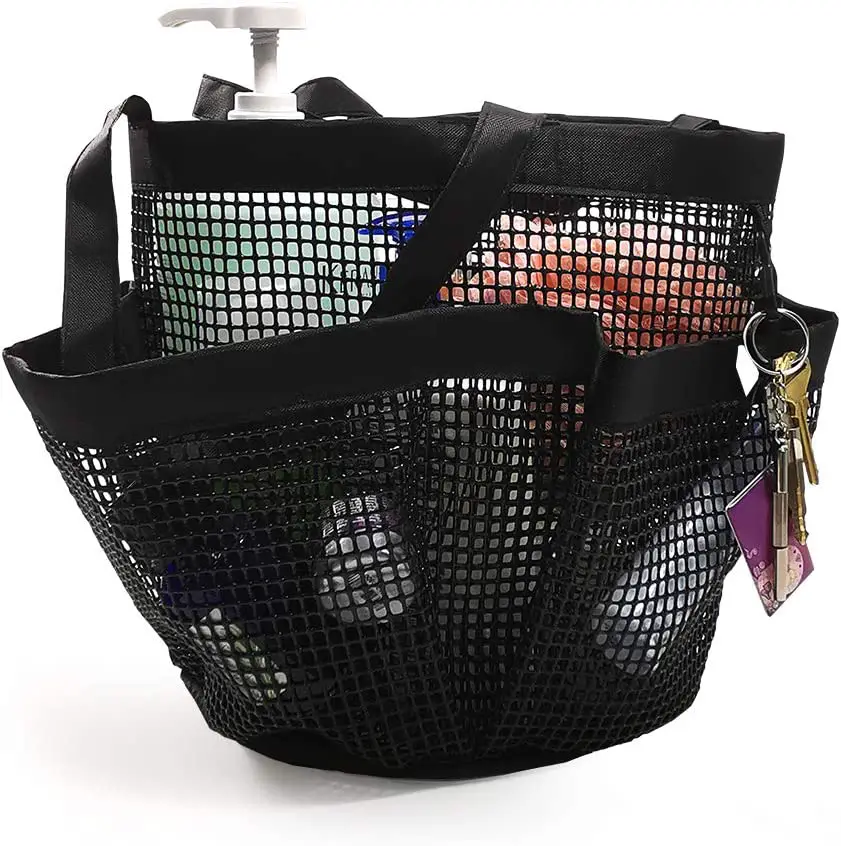 The Spinfox shower caddy is perfect for dorm rooms, homes, beaches, or road trips!
The Spinfox shower caddy has 7 side pockets and 4 compartment pockets. These are perfect for storing things like razors, toothbrushes, makeup brushes, lotions, and potions—you name it! You can even use them for storing your cell phone or keys so they don't get wet in the bathroom sink when you're getting ready in the morning.
It has a waterproof plastic construction that is built to last, and the large size basket will fit everything from shampoo and conditioner to soap, body wash, and more. It also comes with 2 long handles to make it easy to carry around.
Whether you're on a road trip or just in need of a new shower caddy at home, this product is perfect for any need.
Pros
Versatile shower caddy
2 long handles make it easy to carry around
7 side pockets and 4 compartment pockets make it easy to store items
Waterproof construction
Lightweight
Cons
We could not find any cons in this shower caddy.
What to look for in Shower Caddy for Dorms
In the search for the best shower caddy for dorms, there are many things to look for. In fact, you may have found yourself overwhelmed by the options and not sure where to start. The truth is that there are many options available on the market today and they all claim to be the best. However, it is important to consider several factors before making your final decision including materials, designs, storage, portability, and cost.
Materials
The material used to make your shower caddy should be durable and resistant to water.
It is important to find a shower caddy that is made from durable materials that will last you through your college years. Look for a caddy that is made from breathable fabric or plastic that will not rust or break easily. You want a shower caddy that will be able to handle being tossed around and moved around as needed throughout the year.
Designs
Another thing to look for in a shower caddy for dorms is the design. There are many different designs available so you should select one that fits your needs and style. Some designs include hangers that hang from the shower head or railings, hooks that can be attached directly to the wall or railings, and baskets with handles on them so you can carry them around with ease.
Your shower caddy should have a design that is easy to use and can store all your bathroom essentials in one place so you don't have to keep searching through drawers for everything you need.
Storage
It's important that your shower caddy has enough storage space so all of your toiletries will fit inside without spilling over onto the floor! You want your shower caddy to be able to hold all your supplies so that you don't have to keep running back and forth from the bathroom when you need something else.
Portability
The best way to ensure portability is by choosing a shower caddy with handles so it's easy to move around without bringing along any extra weight!
If you have limited space inside your dorm room then consider purchasing an undersized version. Make sure the shower caddy you buy is lightweight, easy to clean and portable so that it's easy for you to move around with it.
Cost
You want a shower caddy that will last a long time without breaking down or rusting away so make sure it costs less than $50 before purchasing anything else!
Extra Features for Added Convenience
A shower caddy isn't just about holding your shampoo and soap. Some extra features can elevate your daily shower routine. To prevent your caddy from slipping and sliding, look for options with reliable suction cups or hooks. They keep your caddy firmly in place, ensuring your items stay put during your shower.
Drainage and Ventilation
Mold and mildew can quickly become unwelcome guests in your dorm shower caddy. To combat this, opt for caddies designed with proper drainage and ventilation. This ensures your caddy and toiletries stay dry and mold-free.
Compartments and Pockets
Nobody likes a cluttered shower caddy. Built-in compartments and pockets are your best friends for keeping everything neat and tidy. They offer dedicated spaces for your items, making it easier to find what you need.
When choosing a shower caddy for your dorm, these features can make a world of difference. Consider your needs and preferences when selecting the perfectshower caddy that enhances your daily routine.
Final Thoughts
We went through all the hassle of testing and reviewing 5 best shower caddies for dorms. After doing some extensive research, we found these 5 best rated shower caddies would make great additions to any college student's home away from home!
For choosing these dorm caddies we considered factors such as type, material, storage, extra features, and cost, to find the perfect caddy. You can keep your college life organized and hassle-free by investing in one of the best shower caddies from above.
Where should a shower caddy be in a dorm?
The best place for your shower caddy in a dorm is near the shower head. You can place it on the wall or hang it from a hook or you can use a shelf to place your shower caddy.