Unlike old times, modern toilets are specifically designed to deliver comfort, reliability, and the highest efficiency. This is why toilet manufacturers keep the sound level of flushing in mind while designing a toilet that can serve both luxury and comfort combined.
Although, finding the quietest flushing toilet is pretty challenging as they are not available in the market within a distinct category. But we have got you covered. 
Read through this extensive guide regarding the top 5 quietest flushing toilets and clear all your confusion!
---
Use links below for easy navigation
---
How We Selected
We considered several factors while selecting quietest flushing toilets such as a soft closing seat, toilet design, the size of the rough-in, and the flushing system. Toilets with elongated bowls and a larger rough-in size tend to make less noise. We preferred toilets with a powerful yet silent flushing system like pressure-assisted or dual-flush.
We also read hundreds of reviews before selecting our top 5 toilets to ensure that we choose ones that operate quietly, are comfortable, efficient, and perform well.
Top 5 Quietest Flushing Toilet
If you are concerned about the noise in the bathroom, you should definitely invest in a silent flushing toilet. But when it comes to the quietest flushing toilets, there are only a few companies that make them. 
After careful consideration and thorough research, we have brought you this list of 5 Quietest Flushing Toilets!
Best for Small Spaces: HOROW HWMT-8733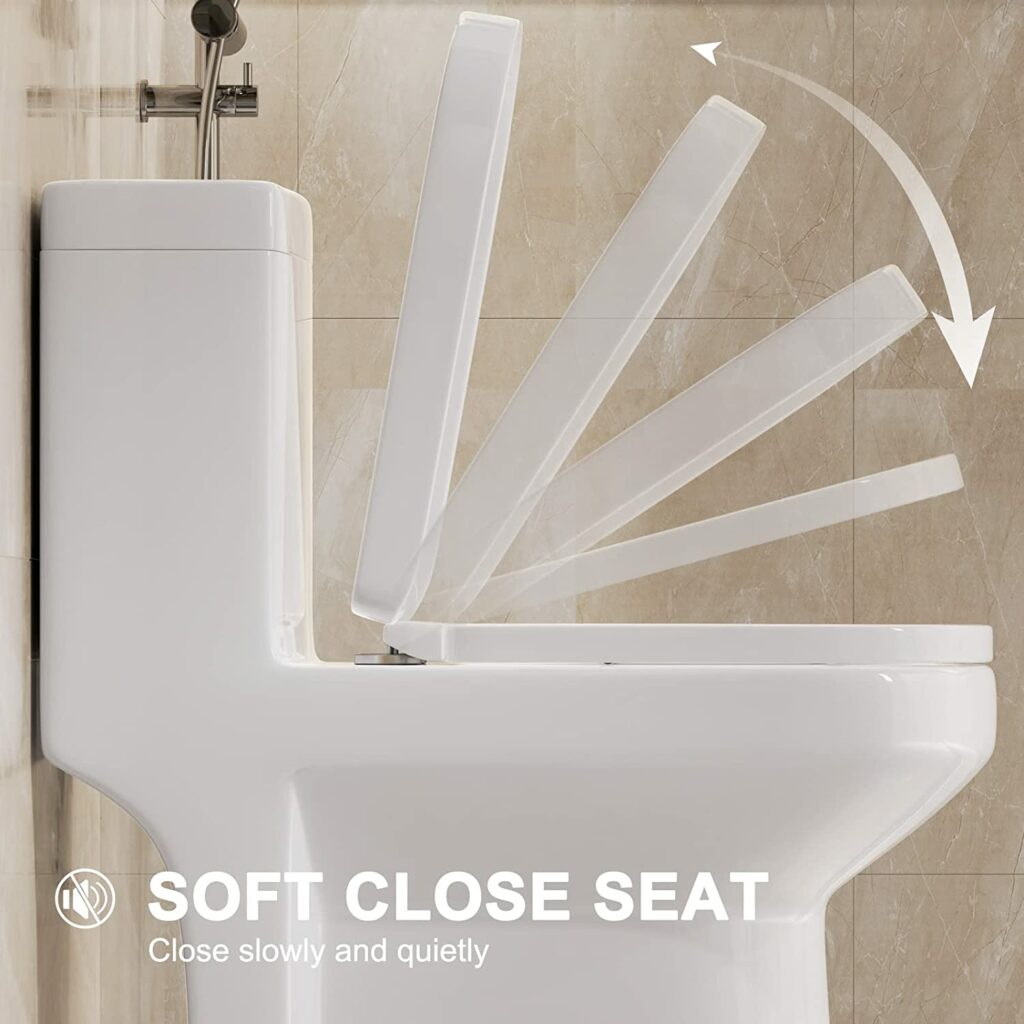 Horow HWMT-8733 is one of its own kind, this toilet serves both utmost luxury and comfort. Apart from the perfect size for space-constrained bathrooms, the 16 1/2 inches seat height can easily be used by a wide range of age groups. In addition to this, the standard round shape of the seat makes it quite suitable for people of most builds.
Horow toilet is equipped with a dual siphon action flush, the higher power makes use of 1.6 GPF, while the lower power uses 1.1 GPF. That is to say, with this toilet, you can mindfully use and conserve water as per your needs. As far as quietness is concerned, this toilet is the top quietest flushing toilet.
The inclusion of a whisper-quiet soft seat along with a silent flush makes it by far the best quietest flushing toilet on the market.
Related: Best Kohler Toilets
Features
Type: One piece
GPF: 1.1/1.6
Flush system: Siphonic jet
Rough in Size: 12 inches
Pros
Perfect for bathrooms where space is limited
Convenient double flush for water conservation
Suitable for both modern and traditional toilets
Effortless cleaning and installation
Cons
No cons for this toilet
Best Elongated Toilet: Deer Valley DV-1F026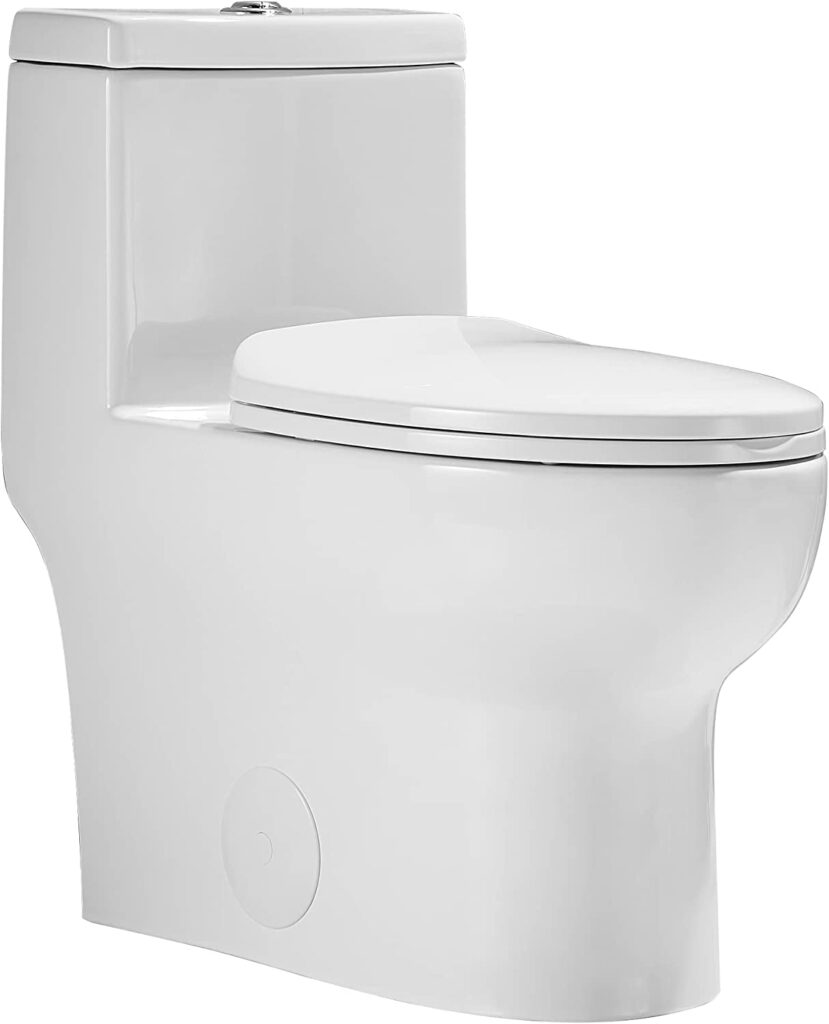 If you are in search of a toilet that won't take up too much space along with being 100% ADA compliant, the DeerValley DV-1F026 is your best bet. This toilet from DeerValley is the perfect fit for small spaces. Owing to the toilet's one-piece design, cleaning and maintenance become super convenient.
Furthermore, the toilet is equipped with a glazed trap way that eliminates any need for scrubbing while cleaning the toilet. The cherry on top is, the dual-action siphon jet flushing mechanism that will enable you to use water based on your needs along with cleaning the toilet immaculately.
As long as the installation is concerned, you can easily install this one even if you have never installed a toilet on your own before. DeerValley DV-1F026 comes with a comprehensive and complete instruction manual along with essential components for installation.
The most crucial features that make this toilet take up a place in this list of quietest flushing toilets are its soft closing seat and dual action flushing system. Both these parts, combined ensure maximum comfort and privacy when you flush by not creating a noise nuisance.
Features
Type: One piece
GPF: 0.8/1.28
Flush system: Siphon jet
Rough in Size: 12 inches
Pros
Comfortable seat
Sturdy skirt around the bottom for easy cleaning
Easily detachable seat
Standard size suitable for most age groups
Cons
Frequently clogs
Best Quietest Smart Toilet: Homary Modern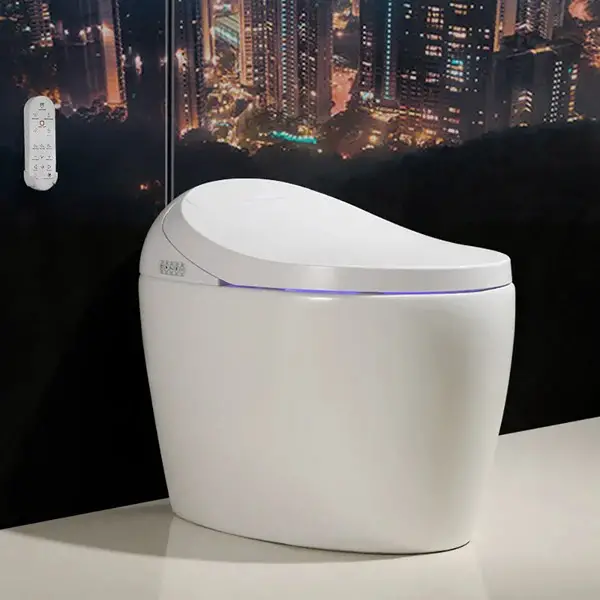 The smart toilet from Homary is undoubtedly one of the most intelligent, futuristic, modern, pleasant-looking, and quietest flush toilets currently available on the market. Since it features a wall mounted design it serves as a perfect fit for bathrooms where space is limited.
This toilet is equipped with a single-piece structure which is super easy to clean and maintain, unlike traditional toilets that feature a two-piece design. As long as smart features are in question, Homary Modern is equipped with an LED nightlight, a user-friendly remote control, water, wind, and temperature adjustments along with touchless opening closing of the lid and flushing. All these features combined will give you a comfort and luxury experience like never before.
Lastly, the soft closing seat along with the dual siphon action flushing mechanism ensures that you have a noise-free private time in the bathroom.
Features
Type: One piece
GPF: 1.32/1.58
Flush system: Dual flush
Rough in Size: 12 inches
Pros
Premium quality along with slim and modern design
Inclusion of bidet foot induction and touchless flushing
The rear spray wash and air drying feature eliminates paper wastage
The heated soft seat and night light deliver maximum comfort
The reliable deodorizing function will keep stinky smells at bay
Cons
No cons for this toilet
Best Overall Toilet: WOODBRIDGE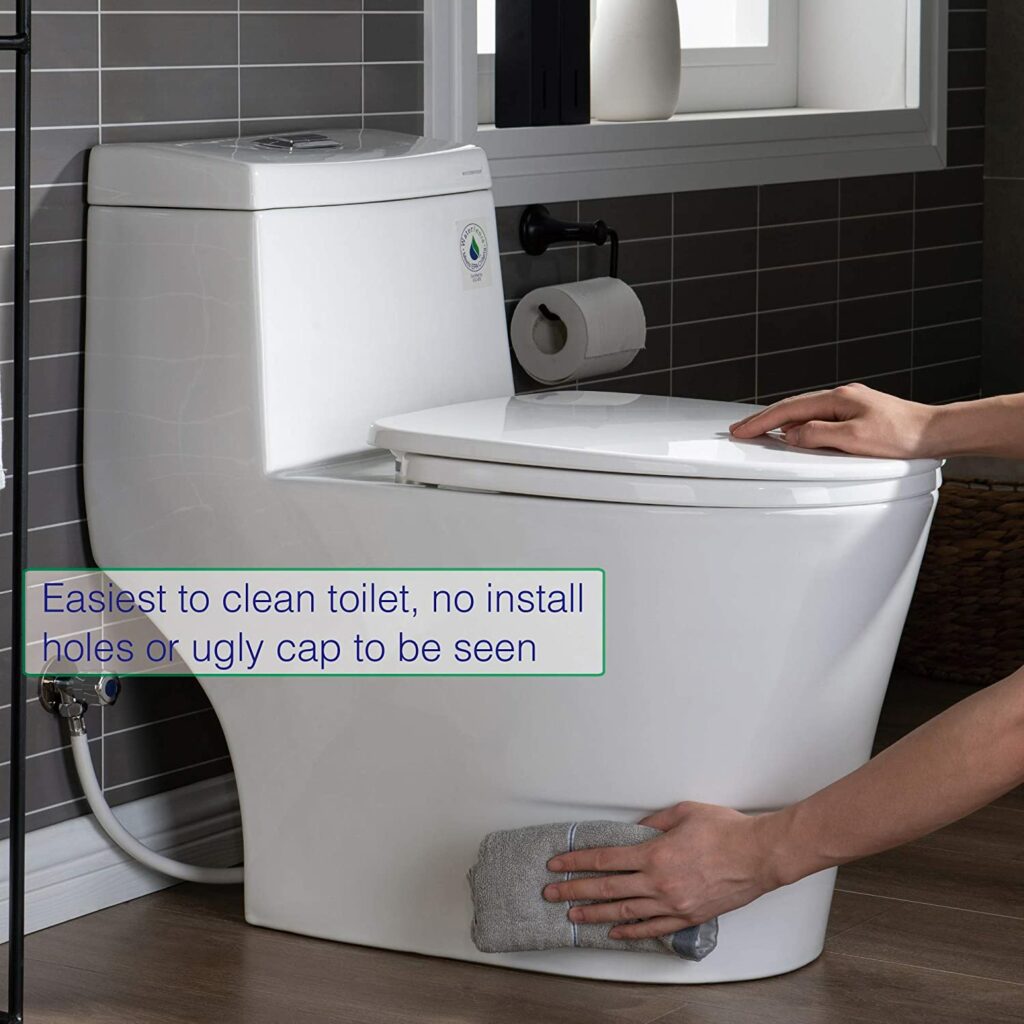 Essentially quite yet power-flushing, the modern and sleek Woodbridge T0001 is equipped with all the features necessary for a toilet that fulfills all needs. Super effortless cleaning and maintenance along with a comfortable seat height makes this toilet ideal for older users and people with physical limitations.
It has a fully skirted bottom coupled with a glazed trapway that dislodges loads of waste in just a single flush. Regardless of all these attractive features, this toilet is unexpectedly low-priced. Furthermore, the quick-release soft seat makes cleaning this toilet hassle-free and a super easy task without any tools.
The T0001 Toilet from Woodbridge makes use of a siphon action dual flush that can efficiently clear your toilet without creating a noise nuisance. Furthermore, the dual flush provides you with two distinct GPFs which are 1.0 and 1.6 both of these are used for liquid and solid waste respectively.
Related: Best American Standard Toilets
Features
Type: One piece
GPF: 1.0/1.6
Flush system: Dual Siphonic action
Rough in Size: 12 inches
Pros
Inclusion of soft closing premium quality seat
 Most affordably priced
A completely glazed trap way decreases the chances of clogging
Sleek and modern design adds up to the aesthetics of any space
A durable and sturdy structure will serve you for a long period
Cons
No cons for this quietest flushing toilet
Best Rectangular Seat Toilet: Swiss Madison SM-1T256 Carré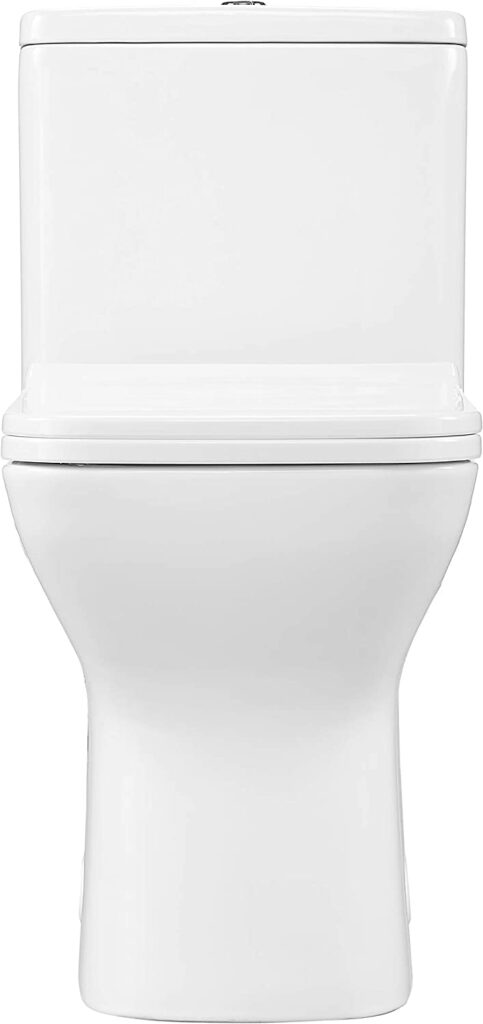 The Carre one piece toilet from Swiss Madison is one of the best quietest flushing toilets. It is equipped with a fully skirted rectangular-shaped seat that can elevate the looks of any bathroom by ten folds. 
This toilet is equipped with the dual function gravity flush which will help you conserve water without having to compromise cleanliness and peace in your home.
The feature that makes this toilet stand out among other toilets in this list of quietest flushing toilets is its unique rectangular seat that offers maximum comfort and room for a wide range of age groups. The fully glazed trapway ensures that no stubborn marks are left on your toilet after flushing.
Lastly, this toilet is shipped with a quick-release soft-closing seat that makes no noise along with being easily detachable for cleaning purposes.
Related: Best toilet for seniors
Features
Type: one piece
GPF: 1.1/1.6
Flush system: Dual gravity flush
Rough in Size: 12 inches
Pros
Comfortable rectangular seat
Soft closing whisper-quite seat
Glazed trap way for effortless cleaning
An appealing and aesthetically pleasing exterior
Cons
Rectangular seat makes the installation process mildly complicated
What to consider while Buying Quietest Flushing Toilet 
It can be hard to find the quietest flushing toilets with so many options available. To help you make the right choice, we've listed the essential features you should consider when buying. 
Let's look at the features you should consider before buying Quietest flushing toilets.
Rough In Size
Toilet rough in refers to the distance from the wall to the center of the waste outlet on the floor. This is the most important feature that you need to look for when you set out to buy a toilet for your space. The rough-in size will help you determine whether the toilet that you are considering will comfortably fit in your bathroom or not.
Toilet Design
When you set out to buy a toilet, you should pay attention to its overall design, dimensions, and style in order to determine whether the toilet will work with your bathroom. First, look for the shape of the seat. 
There are two distinct seat shapes.
One is elongated which tends to provide more comfort but takes up too much space. On the other hand, with round seats you might need to compromise a bit on comfort however, they are perfect for compact bathrooms.
Related: American Standard Cadet 3 Review
Height of Toilet
Next up, look at the height of the toilet seat. Figure out what height you are most comfortable in by considering whether you would want your new toilet to be shorter or taller than your current toilet.
Flushing System
You need to assess the flushing system of the toilet you are planning to buy. This is because flushing systems have a direct link to how loud or quiet a toilet will end up being. Nowadays, when you set out to buy a quiet flush toilet you will mainly come across two distinct types of flushing system.
Gravity assisted flush Toilets
These are by far the most quiet flush toilets currently available on the market even though this technology is quite old. As the name indicates, these toilets use both water and gravity force to push down the waste.
Siphon jet flushing Toilets
They work by pointing a stream of water towards the trap way resulting in dislodging of waste. Siphon jet flushing mechanism is quicker as compared to gravity assisted flushing mechanism, however, it is a little bit loud.
Related: Toto Drake Vs Drake II
Soft Closing Seat 
Even though the seat is one crucial factor that greatly contributes to the noise levels of a toilet, it is often overlooked when purchasing a toilet. Hence, make sure not to make this mistake while purchasing a toilet.
Thoroughly assess the seat of the toilet that you are considering buying in order to pick out the best quietest flushing toilet for yourself.
Related: Kohler Santa Rosa Reviews
What are the common Toilet Noises
There are three common toilet noises, such as a gurgling sound, hissing or whistling sound, or a banging sound.
A gurgling sound usually occurs when there is an obstruction in the drainpipe, while a hissing or whistling sound occurs when there is a problem with the fill valve or ballcock. And the banging sound is typically caused by a loose or damaged component in the toilet's internal parts, such as a faulty flapper valve or a loose fill valve. Additionally, a loud flushing noise can be caused by a powerful flushing system, which may not necessarily indicate a problem
How to Make Your Existing Toilet Quieter
To make your toilet quieter, you can try upgrading to a quieter model from our list above with a powerful yet silent flushing system. And if that's something you don't have the budget to do, add a cushioned toilet seat, replace worn-out components like the flapper valve or fill valve, and insulating the tank can also help to reduce noise.
If your toilet is making noise due to high water pressure, adjust the water pressure at the valve to help reduce noise. By following the above advice, you can make your toilet operate more quietly and prevent it from disturbing your household or neighbors.