What's the weight of cast iron tub? If you've never really thought about it, you might be surprised to find out that this seemingly simple question has no simple answer.
In this article, I'll walk you through the various factors that play into How much does a cast iron tub weighs so that you can better know if it's going to work for your bathroom!
How Much Does a Cast Iron Tub Weigh?
Cast iron tubs can be very sturdy and long lasting, making them popular bathroom fixtures that have been around since the early 1800s. However, this also makes them quite heavy, with the average cast iron tub weighing between 200 and 500 pounds!
Here's what you need to know about the average weight of a cast iron tub!
Cast Iron Clawfoot Bathtub Weight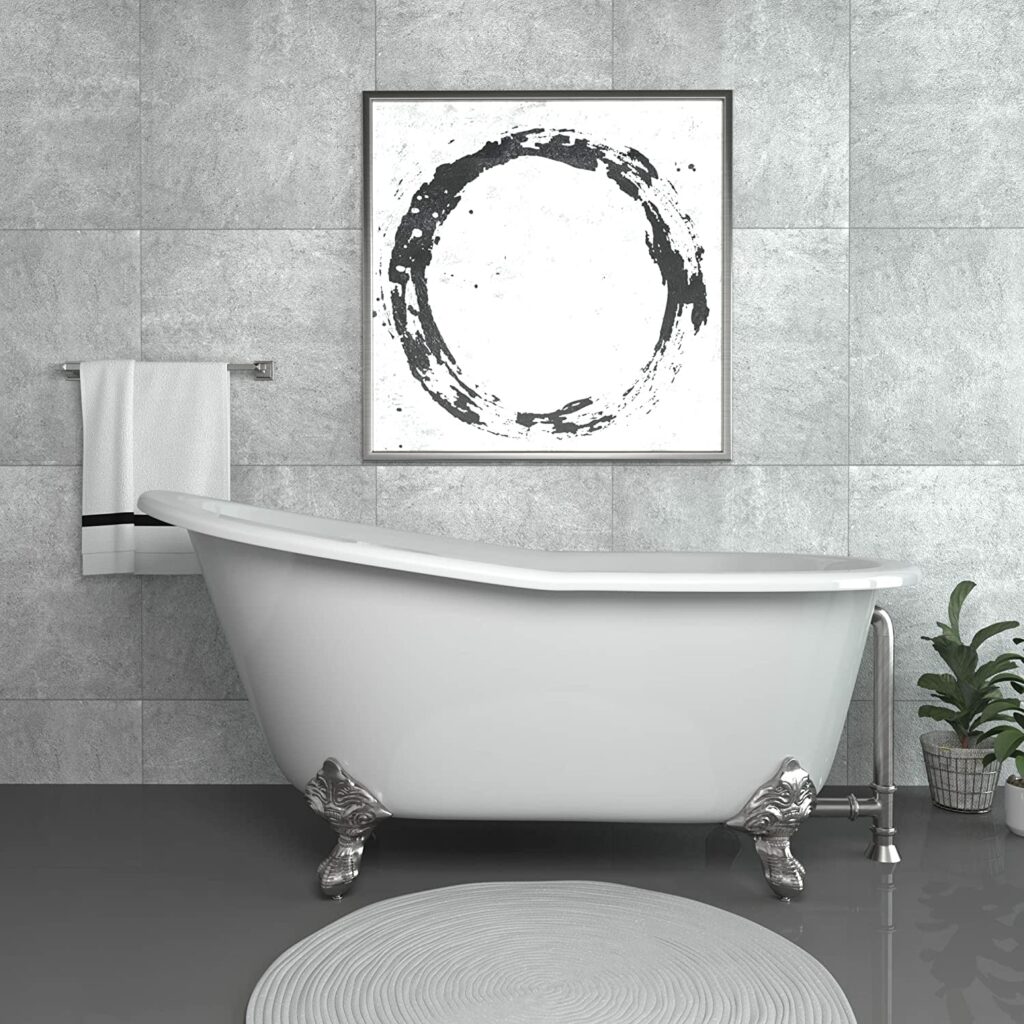 Clawfoot Cast iron tubs come in a variety of shapes and sizes, but most are about 50-72″ long, and 27-32″ wide. They weigh between 250 pounds and 500 pounds, depending on their size. This only includes the weight of the tub without water. After adding the weight of water, the total weight could reach 700 – 1000 pounds.
Clawfoot Cast iron tubs are a great way to make sure your tub doesn't move around while you're using it. Their heavy weight helps prevent your tub from shifting or moving when there is a lot of water in it.
Related: Acrylic vs Cast Iron tubs
Alcove Cast Iron Bathtub weight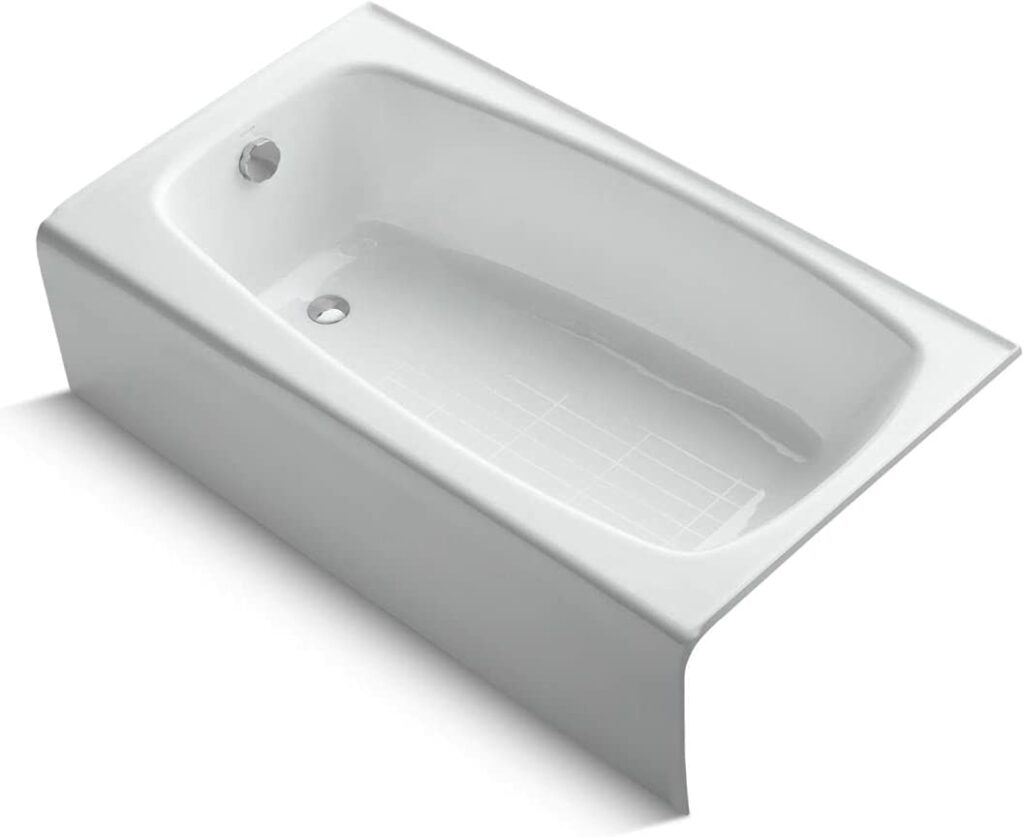 The Alcove Cast Iron Tub is a classic that will never go out of style. Most alcove tub has a rectangular shape and weighs 300 pounds for a 60-inch size, making them sturdy enough to last for years to come.
After adding water inside the tub, the weight of the alcove cast iron tub would increase by 200-300 pounds making it 500-600 pounds.
This type of tub has good heat retention properties, which makes it great for taking baths or showers in the wintertime.
The tub's classic design, with an elegant waterfall spout and hand shower. It's sure to be the focal point of your bathroom—and it'll make you feel like royalty when you step into it!
Petite Freestanding Cast Iron Bathtub weight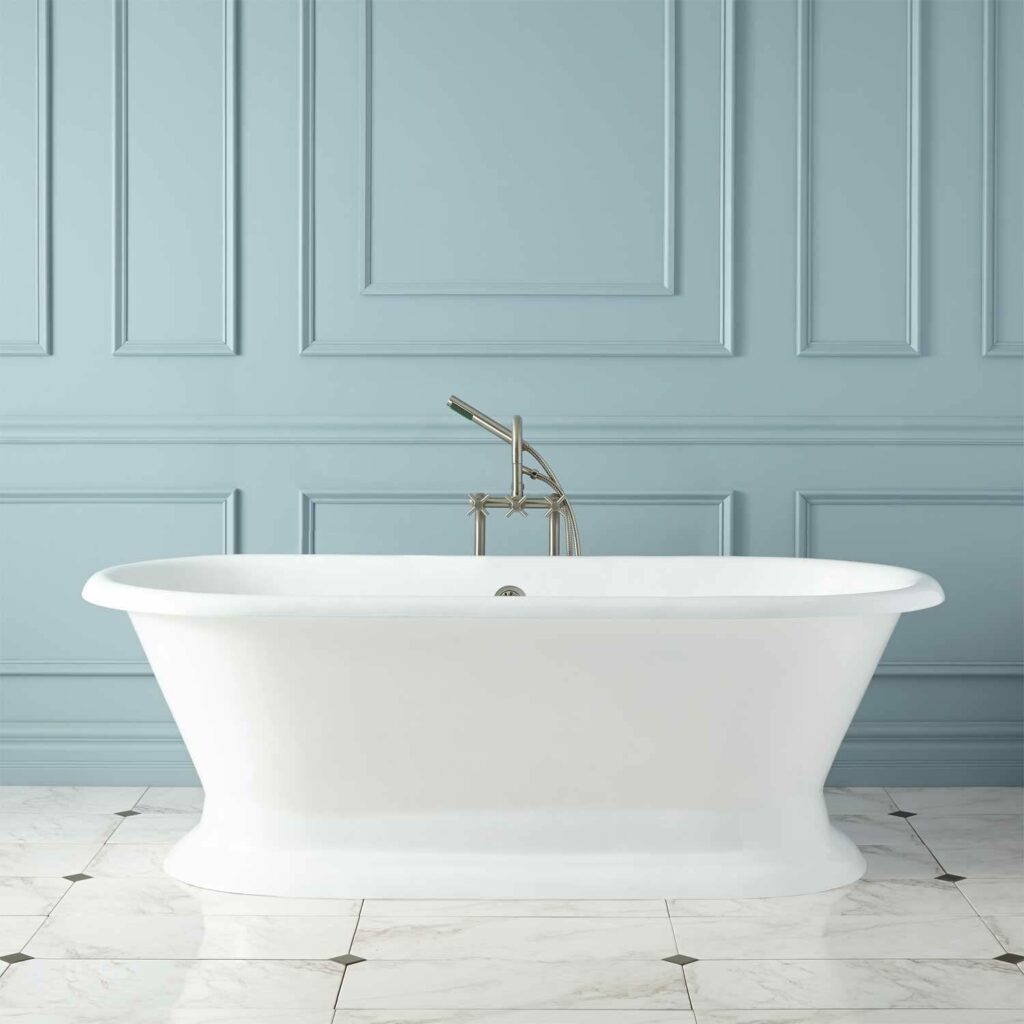 Petite Freestanding Cast Iron Tub weighs about 250 to 300 pounds without water. It has a capacity of almost 32 gallons. After the water is added to the tub, it can weigh around 450 to 550 pounds.
It's a beautiful tub that you can use in the bathroom or any other room of your home where you want to relax and soak away your cares. It's easy to clean, and it comes with an overflow drain so you don't have to worry about water spilling over onto the floor of your bathroom.
This tub is freestanding, which means that it doesn't need to be installed into another piece of equipment like a stand or wall mount. You can set it up wherever you'd like in your home—even outside if you want!
Related: Benefits of Cast Iron Tub
How Much Weight Can Your Bathroom Floor Support?
The weight of your bathroom floor depends on a few factors. The first is the materials you're using to make it. If you're using tile or stone that can support more weight than if you're using wood.
The second factor is how big your bathroom is. The larger the space, the more weight it can support.
The third factor is whether or not there's any water involved in the room. If there are showers or bathtubs in your bathroom, the floor needs to be able to support more water than if there isn't any showering or bathing going on in there.
So… what do all these numbers mean? Let's break it down:
The average person weighs about 200 pounds when they're standing still (and about 220-250 pounds when they're walking around). Now there will be other stuff in the bathroom as well, such as toilet seats, sinks, faucets, bathtubs, and other bathroom accessories.
An average toilet seat weighs about 100 pounds, while sink and faucets weigh around 50 pounds, and an average bathtub weighs around 200 – 500 pounds. If we sum it all up in table below:
| Bathroom Items | Weight |
| --- | --- |
| Average Person | 200 pounds |
| Toilet seat | 100 pounds |
| Sink and faucets | 50 pounds |
| Bathtub | 500 pounds |
| other accessories | 50 pounds |
| Total | 900 pounds |
That means that an average-sized bathroom can hold up to 900 pounds without any problems! That's a lot! But if you're going to be stepping into a tub full of water every day (or even just once in a while), then we recommend upgrading your floors to one that can hold 2000 pounds or more—and if you have children who might be bathing themselves at home, then 2000-4000 pounds should do the trick!
How Much Weight Do Other Bathtubs Weigh?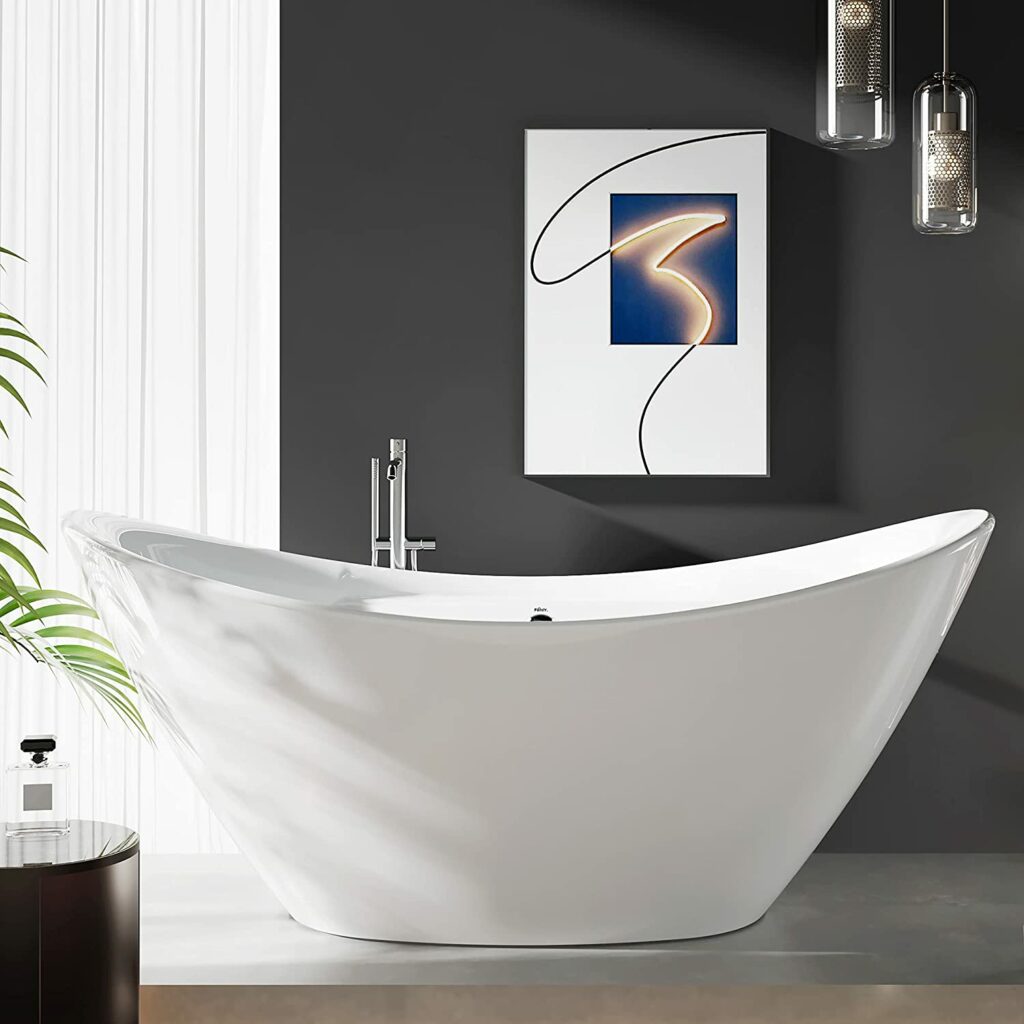 Porcelain bathtubs, fiberglass tubs, and acrylic bathtubs are all designed to be light, but the exact weight of each depends on the model you choose.
Different companies make their tubs in different styles. We've created a handy chart to help you figure out how much weight Porcelain-enameled steel, acrylic bathtub, and fiberglass will add to your bathroom!
| Bathtubs | Average Weight |
| --- | --- |
| Porcelain-Enameled Steel | 75-150 pounds |
| Fiberglass | 100-200 pounds |
| Acrylic | 150-500 pounds |
Can you paint cast iron bathtubs?
If you have an old cast iron tub that's been gathering dust in your attic and have been looking for ways to repurpose it, you might be wondering if painting it is possible. The answer is yes! You can easily repaint a cast iron tub by sanding down the surface, applying a primer, and then painting over it with your favorite color.
A good primer is necessary to keep the paint from sticking to the surface and peeling off.
Is a cast iron tub heavy?
Cast iron tubs weigh between 200 and 500 pounds, so they're not exactly light enough to carry around from one room to another without assistance from another person. If you decide to install one in your bathroom, make sure you or someone else can help lift it into place before it gets too heavy for one person to handle on their own (or use some sort of lifting equipment).
Are cast iron tubs worth keeping?
Cast iron tubs are worth keeping because they're sturdy, durable, and long-lasting. These tubs have a classic look that will never go out of style.
Bottom Line
A cast iron tub weighs anywhere from 200 lbs to 500 lbs, depending on the size and make of the tub. Cast iron tubs are notoriously heavy, but if you're remodeling your bathroom with one, it's important to know how much weight they can bear and what kind of flooring can support them.